Well, dear readers, how do these evenings get away from me.  I got home around seven and now it's after midnight.  How did that happen?  The hours have disappeared into the ether and here we are, after midnight, just starting these here notes.
I must say March got off to a roaring good start.  I got almost eight hours of sleep, then went to our matinee.  I'd been led to believe it was going to be a very light house, but as it turned out we were just about full up.  We had two reviewers there, one of whom was our very own Rob Stevens.  I hope they enjoyed it, but, of course, Rob can write whatever he likes without fear of anything here on haineshisway.com, yay or nay.  I had some friends there that I haven't seen in over a decade, so that was fun.  Anyway, they were just a wonderful audience, very vocal, and the show got a full standing ovation, not that that really means anything in LA or anywhere else for that or any other matter.  The cast was on their game, and our understudy for Leslie Stevens was on for her third and final show and did very well.  I talked to a lot of people after, and then a few of us went to the Smoke House for a well-deserved meal.
I decided to be good.  I only had one piece of garlic cheese bread, a shrimp cocktail, a cup of clam chowder and a lettuce wedge.  We all had some boisterous fun, and then I came home.  I put the finishing touches on the new song I wrote yesterday, then sent it off to Sami and her mom so she can learn it.  It's pretty cute but a lot of tricky stuff to learn.  Then I finally sat on my couch like so much fish.
Last night, I watched a motion picture on Blu and Ray entitled The St. Valentine's Day Massacre, directed by Roger Corman.  I'd never actually seen it in its entirety and I don't really know why, since I was a Corman fan when it came out.  It was his first big studio picture and budget and from what I understand it wasn't that happy of an experience for him.  The film is very interesting on any number of levels.  It's very well directed, and I'm a big fan of the writer, Howard Browne, who wrote several nifty noir novels.  The film has narration by Paul Frees, which seems to be patterned after the Walter Winchell narration for The Untouchables TV show.  The film has a good cast, including Jason Robards, Jr. as Al Capone – that casting was lambasted by critics of the time, but I don't care because I just think Mr. Robards was a wonderful actor and I can watch him in anything.  There are many up-and-coming young actors including many Corman regulars from his AIP pictures, including Jonathan Haze, Dick Miller and someone named Jack Nicholson, who I don't even think has one line.  George Segal turns in a really nasty performance as a really nasty gangster, and I also enjoyed, Frank Silvera and Ralph Meeker.  It all moves along at a steady clip and I quite liked the score, too.  There has been the usual claptrap about the transfer – everyone likes it and thinks the element used is in very good shape, but that the color is faded and that a lot of work was done in the telecine room to bring it back as best as possible.  Now, keep in mind, these are the same people who criticize films with perfect color as somehow being "off."  First of all, the element used is perfect – it's really sharp and, to my eyes, looks like it just might be off a camera negative – if not, it's not far from it.  And then there's the color – yes, it's flat but I believe that is by design and I'm not convinced the negative was faded.  There are some very vivid colors on display, while most of the set design palette is drab, brown and sans color.  The skin tones don't really look off, and if it were a faded negative you could not have the really clean and really correct blacks and whites.  One of the usual suspects even said that the two flashback scenes are so devoid of color that they looked like they were colorized.  The fact that they didn't understand that THAT was completely by design, that those two scenes were completely desaturated (it's so obvious), is a bit baffling.  One wishes the film were better, but I enjoyed it a lot and can recommend it to those who are fans of gangster pictures.  The release is via Twilight Time.
After that, I did some work on the computer and then I found this on the Internet – another production of The Brain from Planet X, a high school in Pennsylvania.  I like the poster very much.  It's so much fun that there are all these nice productions and notice the nice credit for dear reader elmore.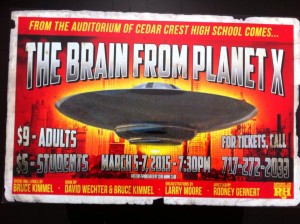 Today, I'm not sure what's going on, but I'm kind of hoping I can at least get some relaxation, which would be very helpful and nice.  I'll hopefully pick up some packages and at some point I'll eat a little something.  In the evening I'm seeing Emily Skinner's act, and that should be fun.
Tomorrow, I have a meeting at eleven-thirty, and then we have our first Kritzerland rehearsal.  The rest of the week is meetings and meals, our second Kritzerland rehearsal, then resuming Inside Out, our stumble-through on Saturday, then sound check and show on Sunday.
Well, dear readers, I must take the day, I must do the things I do, I must, for example, do whatever needs doing, hopefully pick up packages, eat and then see Emily Skinner.  Today's topic of discussion: What are your favorite gangster pictures and TV shows?  Let's have loads of lovely postings, shall we, whilst I hit the road to dreamland, posting these here notes thirty minutes late due to the night that got away.