Well, dear readers, I am writing these here notes early, I will schedule them and then I'm going to bed, as I have to be up at six to announce our new title and I am trying to not get sick – do send some of those excellent vibes and xylophones for no sickness, simply no time for it.  So, the first order of business is our first CD release of 2015 – a favorite composer of mine, Paul Glass, and two wonderful scores on two CDs for a one-CD price.  The main attraction is Ethan, a film no one has ever seen, and which was a bit controversial back in 1964 when it was made.  Glass's score for that one is quite gorgeous and filled with beautiful themes – in fact, it's very reminiscent of the score he'd write a year later for Bunny Lake is Missing.  The second score is to an Oscar-nominated short film called George Grosz's Interregnum, from 1960.  It's very avant-garde but very interesting and compelling.  Here's the cover art.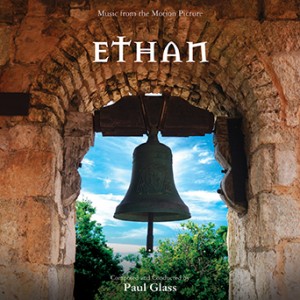 Yesterday actually turned out to be a fun little day.  I was up at nine-thirty after about seven hours of sleep – I would have gotten more than eight had it not been for a bout of nausea for ninety minutes in the middle of the damn night.  Once up, I got ready and then moseyed on over to The Federal to judge the LA's Next Greatest Stage Star contest, which I do every year.  They provided breakfast for all of us – I didn't want to really eat much, so I had three pieces of bacon, some fruit and a teeny-tiny bite-sized muffin of some sort.  I had nice fellow judges – director/choreographer Roger Castellano, director James Mellon, and casting director Amy Lieberman.  I especially enjoyed meeting Amy and I hope to remain in touch with her.
Usually it's a really mixed bag of talent, but this year's group was really very good straight down the line.  There was one particular gal who we all thought was just about perfect and she received my only straight tens across the board.  Their song choices for this week had to be either Kander and Ebb or Jerry Herman.  The whole thing went quickly because Michael Sterling has learned over the years that there are certain judges who just love to pontificate and love the sound of their own voices, so he now limits the comments to thirty seconds.  When I first started doing these (I actually judged the very first iteration nine years ago), some judges just went on for minutes at a time and frequently about all the wrong things, like clothing and hair.  I mean, really.  Thankfully, that's all gone by the wayside in the last couple of years.
After that, I stopped at Gelson's briefly, then came home.  Then I had a very quick and very effortless work session with John Boswell, who simply just "gets" these shows and what I like, so I really only have to make quick suggestions and he does it and we're done.
Then I went and had a patty melt and a cup of chicken soup.  I also proofed another few chapters of the book.  After that I came home, prepped the eBlast for this morning's announcement, did a few other things on the computer, then sat on my couch like so much fish.
Last night, I watched a movie on DVD entitled The Canal.  I got it because I read some things that made it sound interesting, and it also features this actress I've now seen in three films – APP, Hemel and this, Hannah Hoekstra.  Sadly, she disappears a third of the way into the film.  Other than her, I found it to be a pretty nothing film – it takes more of the Val Lewton approach to being scary, which is more atmosphere than things jumping out of you, but while I admired that, it's just not very good.  Several of the imdb weirdos talk about the "twists" – there aren't really any, unless you've never seen a movie of this type.
After that, I just relaxed.
Today, I'll be up at six to announce our new title.  I may or may not try to get an additional two hours after that, but I have plenty to do including prepping the staging for one of the bigger numbers, and I may even get to the very big act two opener.  After that one, I think save for the finale of the show, there really isn't anything too big to worry about.  The helper is coming in at ten while we're putting in the actress who missed last week, and she's going to help me figure out the number in act one that we skipped.  I just want to figure it out with her and then give it to the four ladies involved, rather than make the whole thing up while we're doing it.  After that I'll hopefully pick up some packages, I'll eat and proof, hopefully I'll print out a LOT of orders, and I'll spend at least some of the evening hours doing more proofing so I can finally start entering the fixes.
Tomorrow we have our ten to two rehearsal, then it's right home and we have our first Kritzerland rehearsal, after which I'll get something to eat.  Starting today, I am cutting out all desserts for at least a month and I am going back to 1200 calories a day for at least a month.  If I don't then I'll just keep eating like a pig and weigh 300 pounds.  Those are the only choices and I would prefer to fit in my clothes again.  The rest of the week is rehearsals, our second Kritzerland rehearsal, some meetings and meals, the book fair on Saturday, our stumble-through on Sunday, rehearsal on Monday, and then sound check and show.
Well, dear readers, I must take the day, I must do the things I do, I must, for example, announce the new Kritzerland title, I must rehearse, I must hopefully pick up packages, print out order, eat and proof.  Today's topic of discussion: What are your favorite books, movies, TV and plays with a supernatural theme, i.e. ghost stories and that sort of thing.  Let's have loads of lovely postings, shall we, whilst I hit the road to dreamland, happy to have had a nice judgment day at The Federal.