Well, dear readers, I think it's become painfully obvious that I did not, in fact, get food poisoning, but I did, in fact, get a nasty stomach bug that seems to be hitting everyone in Los Angeles, California, USA.  Of course, I always believe that every time there's a nasty bug of any sort that the government's secret testing programs put it here.  Call me paranoid, call me Ishmael, call me irresponsible, call me Bwana, but just call me, but that's how I feel about these things that come out of nowhere and attack our good citizens.  Food poisoning would have been done after the first twenty-four hours.  The fact that this nausea is constant and it constantly feels like I'm going to need either the loo or to vomit on the ground and it's still going on since Thursday – well, I don't want this thing anymore.  I need it to be done and over with.  I have a VERY busy two weeks coming up and need to be on my "A" game.
Luckily, I managed to keep the soup and sandwich down, but I was nauseous when I got up after eight hours of sleep and that nausea is worse now.  I did go and eat some poached eggs on white toast along with a little plate of white rice.  That made it worse rather than better.  Then I picked up some packages, including one that contained my first real award, as in a real thing I can display like an award.  That, of course, is the MAC Award for the 2015 Song of the Year.  Here it is.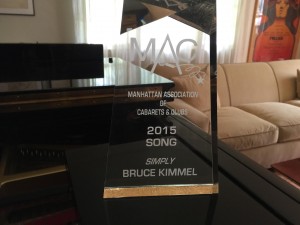 Isn't that a lovely little thing?  That made me feel a bit better for a few minutes.  Mostly I probably should have just gotten back into bed and slept, but instead I sat on my couch all day like so much yucky fish.
Yesterday, I watched two more episodes of The Honeymooners, both very funny.  I then watched a motion picture on the Flix of Net entitled The Blue Room, a French film from France.  Not quite a great movie but a very good one that I enjoyed it – you might, too, if you like non-linear storytelling.  This one's based on a novel by the great Georges Simenon.  The acting is very good, the score is lovely and at seventy-six minutes it certainly doesn't overstay its welcome.
I then watched the first thirty minutes of a motion picture on Blu and Ray entitled Isadora, starring Vanessa Redgrave.  I once owned a 16mm dye transfer Technicolor print of the short version (128 minutes), which was retitled The Loves of Isadora.  The original premiere version ran 168 minutes, then there's some director's cut that's a bit shorter than that – the case here says 140 minutes, a running time that I can't find listed anywhere, so we'll see how long this actually is.  The transfer, thus far, is very nice and I'm really enjoying the film.
Whilst watching Isadora, I did eat some Saltines and they made the nausea worse, too.  It's just dreadful and it's time for it to be gone so keep sending those excellent vibes and xylophones because I'm just done with this stuff.
Today, I have no plans at all, other than to relax and rest and hopefully feel less or no nausea.  IF I eat anything, it will be the BRAT diet – bananas, rice, applesauce and toast.  I'll finish Isadora and I have tons of other stuff sitting on the couch in a big pile.
Tomorrow is a holiday, so it will be another day of nothing but rest.  Tuesday I really need to be completely done with this.  I have a lunch meeting at noon o'clock, and then we have our first rehearsal for the Sami show.  I'll try to stage half the show during our three to four hours.  The rest of the week is all Sami rehearsals, plus some meetings and meals.  We only have about thirty seats left for the performance.  The performance is a week from today.
I wish I had something else to talk about but nausea is boring and nauseating.  So, I shall just end the notes and go to bed and hope I sleep through the night okay.
Let's all put on our pointy party hats and our colored tights and pantaloons, let's all break out the cheese slices and the ham chunks, let's all dance the Hora and the Merengue, for today is the birthday of our very own dear reader Jeanne.  So, let's give a big haineshisway.com birthday cheer to our very own dear reader Jeanne.  On the count of three: One, two, three – A BIG HAINESHISWAY.COM BIRTHDAY CHEER TO OUR VERY OWN DEAR READER JEANNE!!!
Well, dear readers, I must take the day, I must do the things I do, I must, for example, do nothing but relax and hopefully feel better, along with watching movies and such.  Today's topic of discussion: It's free-for-all day, the day in which you dear readers get to make with the topics and we all get to post about them.  So, let's have loads of lovely topics and loads of lovely postings, shall we, whilst I hit the road to dreamland, hopefully to be done with the damn nasty stomach bug.