Well, dear readers, they went and did it – they knocked down the Annette Funicello house. It seemed like it might not happened, but after only three hours of sleep I was awakened by the sickening sounds of heavy machinery. I got up and looked over there but I was so groggy I couldn't really see anything – so I thought it was actually happening to the east of me. Then my eyes cleared and I realized that all that was standing was a chimney. Another charming Studio City house gone, sold for close to a million dollars so some speculator or some entitled rich person can build a monstrosity that is stripping away the charm of what was once the most charming neighborhood in the Valley. The people moving in will send their child or children to Carpenter, and when they are through there the people will (as has been the frequent case) move elsewhere, leaving behind the damage they've done. Any way you slice it, someone will have close to two MILLION dollars in a house in a folksy neighborhood. Here's a photo just prior to them starting to strip away the plaster of the house.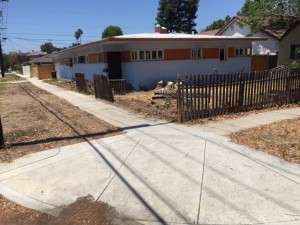 And here's a photo of the house now completely gone.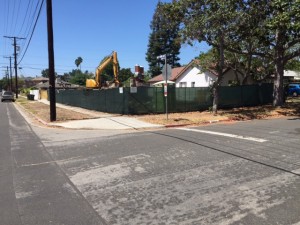 And that was how my day began. It really began earlier when I couldn't sleep – I got up, wrote two e-mails I felt I needed to write, then couldn't fall asleep until five. Once up and coherent I had a telephonic call that wasn't one of my favorites, but hopefully it achieved what it needed to achieve. After that, I had work to do on the computer and I did some work at the piano. I then had a really long telephonic conversation with our musical director, and by that time it was almost two o'clock. I picked up a couple of packages, then finally got something to eat – chicken tenders. By the time I got back home it was almost four. I came back to an e-mail I knew would be coming at some point, and that was completely irritating – par for the course for yesterday. Is Mercury in retrograde again? Is Pluto in Mars? What gives? Anyway, the response to the e-mail is an easy one and it will remove a huge burden that's been bugging me for over a year. And that, ultimately, is a very good thing, as annoying as it is.
I did sit on my couch like so much fish, and started some strange Mike Figgis movie on the Flix of Net, but I dozed off a bit and had no patience for its artiness. I then did a jog, and then I had yet another long telephonic conversation, after which I just zoned out to the music of George Shearing, which was helpful. Most helpful of all was a long, hot shower during which I washed all the crap of yesterday right down the damn drain.
Today will hopefully be a crap-free day. I have a telephonic call at nine, then at ten I will be at Doug Haverty's to conform the pre-recorded Inside Out tracks. Alby Potts will be with us, since he played the show and it really should go quickly as long as Doug can work the software properly and smoothly. Once that's done, I'm hoping we can grab a bite to eat somewhere, then I have to be back home by one-thirty or so for the helper. She's picking up more invoices and stuff as the end of next week is going to be a bit nightmarish for her, shipping mugs and T-shirts and a whole lot o' CDs. And I can be of no help because next week is the craziest week ever. Then I'll hopefully be able to relax a bit, jog, and do some work.
Tomorrow, we resume rehearsals at eleven. I'm going to work through the entire show, monologue-by-monologue and song-by-song, and clean up the movement stuff, and work on the parts of the monologues where the storytelling isn't coming through quite enough. As I've said, every day we make strides, but there are still some areas where clarity is really important. It's actually not that much stuff. Then we'll have a little lunch break, and then we do a full out run-through – kind of a second designer run for the costume person. Sunday is exactly the same, only we have to finish an hour earlier, so I won't work stuff to quite the same extent, as we must get in a full out run-through. After that, we will have six more run-throughs before our invited dress. Then, of course, we have wacky week – Kritzerland, Welcome to My World, lighting, set, tech. I may need to be escorted to the lunatic ward after we open, but noooooo, I'll just have to get the October Kritzerland together.
Well, dear readers, I must take the day, I must do the things I do, I must, for example, have a telephonic call, work on tracks, eat, see the helper, have another telephonic conversation, hopefully pick up packages, jog, and then relax. Today's topic of discussion: It's Friday – what is currently in your CD player and your DVD/Blu and Ray player? I'll start – who knows? Your turn. Let's have loads of lovely postings, shall we, whilst I hit the road to dreamland, hoping to have a crap-free day and sad to have see the Annette house torn down, demolished, and a piece of Studio City history gone forever.