Well, dear readers, I am older. Yes, you heard here, dear readers, I, BK, who am plenty old already am older. What a difference a day makes. One day, there you are, one age, and then comes the midnight hour and all of a sudden you're a new age, just like that. So, yes, today is my very own actual birthday so happy birthday to the likes of me and because I'm proud to have gotten here, I am now sixty-nine years of age and will remain that for an entire year, at which point we go into a whole other scenario and we'll see how I feel about THAT when that occurs.
I could not have had a better final day of sixty-eight than the one I had yesterday. I only got five or six hours of sleep due to an overcrowded brain and too much thinking. Once up, I had to go pick up something, then I picked up a couple of packages and did some banking. Then I just needed to relax, so I uploaded my new arrivals into iTunes and listened to a newer recording of Villa-Lobos' Forest of the Amazon, the discarded film score he wrote for Green Mansions. I have the version he recorded in 1959 and while I like it, the sound has a lot of distortion – not sure if that's just on the album masters or on the original tapes, but it doesn't make for pleasant listening. This new recording is superb – great sound and a wonderful performance and it's longer, too, with additional music not on the 1959 recording. And it's also an SACD and I'm guessing it's going to sound even better that way when I play it. The other uploads were all of the Villa-Lobos string quartets (about seventeen of them). It's said that string quartets really show the worth of a composer – I don't know why that is and frankly I've never really gotten into them, even the ones by American composers I love. I do love Bernard Herrmann's Echoes for string quartet, and there are a few others, but I just haven't cultivated an ear or appreciation of the form, really.
Well, I have to say I am really enjoying these Villa-Lobos quartets. The way they're paired up keeps them interesting, too – on disc one you get number six from 1937, number one from 1915, and number 17 from 1957. I enjoyed number six but was surprised to find how much I really loved number one – so forward thinking for when it was written, and with his completely unique voice already in place. These are beautifully recorded and the quartet playing them is superb. From everything I've read, this is the set by which all others are measured.
Then Richard and Elizabeth Sherman arrived and we moseyed on over to Calabasas High for our sound check. The traffic was mild and we got there in twenty-five minutes. Once there, we introduced Richard and Elizabeth to everyone, and then sound was ready for us. We began with Sami, and I got the sound the way I like it, and Sami and I worked on the song a bit. Then we did the duet, then the big group number. They pretty much had the little staging stuff down, and then they went and practiced it some more while Richard and I got into our head mics. We sang through Two Roads, I sang The Whimsey Works (and Richard sweetly said he loves the way I sing it best), and then our MD, Richard Allen, li'l ol' me, Richard, Elizabeth, and Sami's mom went to the Eyetalian jernt, Rosto's, where we had some Eyetalian stuff. I had a small Caesar, and salmon with some veggies, so very low-cal, save for the couple of pieces of bread I had with it. Then we had one piece of coconut cake for the table – I had three bites of that. It was a fun meal and then we moseyed on back to the school, got in our mics, did a final sound check and ran parts of all the songs again. By the time we finished, it was only twenty minutes to show time.
Sami introduced me, I introduced Richard, and off we went. And I must say, it was a practically perfect evening in every way. I'm pretty good in terms of the questions I ask – I know how Richard's mind works and what he responds to, and so while we got some stories that he always tells, we also got others that he's never told. I just guide him and we cover lots of the movies, songs, and personal life stuff, as well as our personal stuff, which I know is fun for the audience. It was a full house and they were very appreciative and just loved Richard because, well, he's just lovable. The group number was great and the kids really delivered it well and got a great response. The duet girls did a beautiful job on Chitty, Chitty, Bang, Bang and Hushabye Mountain, especially the latter. I have a very specific way I like the "hush" of "hushabye" done and boy did they do that well.
And Sami got the big number, Suddenly It Happens. I rarely see her nervous, but I think because she really knew a lot of folks in the audience she was, but she came through with flying colors on a really difficult arrangement. She got all the belty notes but also built the song the way it needs to be built and had really listened and found lots of colors for it. Then we told the story of how The Whimsey Works came to be written, and I sang it and I thought it went very well. Then we told the story of Two Roads and we both sang that and it was way too much fun for us, including our kazoo instrumental. Then we brought all the kids back and did our finale/sing-a-long – Let's Go Fly a Kite, Feed the Birds, and, of course, It's a Small World. Then Sami came forward and surprised me with a cake and everyone sang me Happy Birthday, which was lovely. And then they gave Richard and I plaques, a card, and flowers. It was very sweet.
After, so many nice folks came up to me and told me how much they'd enjoyed it and how moving some of it was to them. There were lots of photos with Richard, and the kids who'd performed were so sweet and grateful, too. Here are some actual photographs. First, the student performers with Richard and me.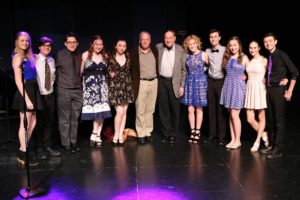 Here I am with Richard doing our kazoo instrumental in Two Roads.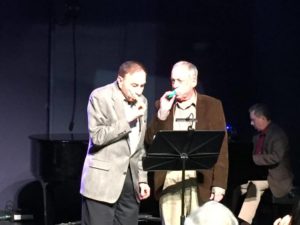 Here's Richard, Sami, and me.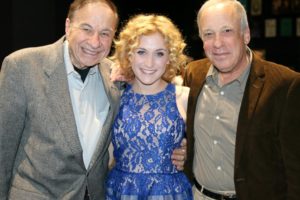 And, as always, the ubiquitous Sami and me photograph.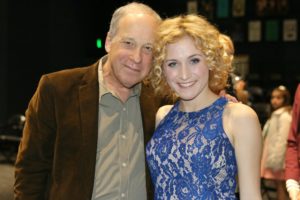 We got home in twenty minutes. Then I just listened to more string quartets and got ready to be older.
Today, I shall be older. I have a birthday lunch at noon-thirty with the delightful Kay Cole, then I'll hopefully pick up some packages, I'll definitely do a birthday jog of some sort, and them I'm just doing nothing – I'll watch a screener or two, listen to beautiful music, and just enjoy the day and evening, unless someone calls and wants to go do something fun. I will of course be wearing my pointy party hat, my colored tights and pantaloons, I will be partaking of cheese slices and ham chunks, and I will be dancing the Hora or the Swim.
Tomorrow I'm not sure what's happening. Oh, there are happenings, I just can't quite remember what they are – there may or may not be a joint birthday dinner – if that doesn't happen, it probably won't happen until the following weekend. IF the dinner isn't happening, then I may join Richard Sherman and Richard Allen at the Magic Castle for lunch. I'll lock down a time to comp vocals, and then I hope to start planning the February kid show, and I also want to set about writing a rough open for the new book.
Well, dear readers, I must take the day, I must do the things I do, I must, for example, be older, have a birthday lunch, hopefully pick up packages, have a birthday jog, and relax. Today's topic of discussion: Since it's my very own actual birthday – when did you first become aware of me? What it from TV, the albums, or what? Or did you have no clew who I was, but if so how in the HELL did you find this here site? Let's have loads of lovely postings, shall we, whilst I hit the road to dreamland, after which I shall arise and be older for it is my very own actual birthday.