Well, dear readers, I am sitting here like so much fish, having just had what I think will be a really fun recording project with which to begin the New Year of 2019.  We may actually try to do the actual recording part, or at least some of it, before the end of the year.  If all goes according to Hoyle it could just be our first announced release of the New Year. Speaking of announced releases, we're happy to announce the final two releases of 2018, two Golden Age soundtracks. The first is Alfred Newman's brilliant and moving score to the film A Man Called Peter, which starred Richard Todd and Jean Peters.  It's classic Newman so what else really need be said other than order it immediately. Here's that cover.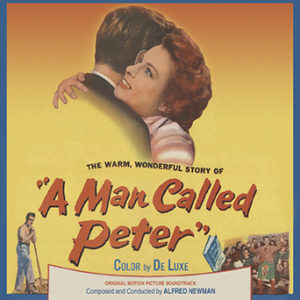 And the second release is one that's been in the works for a long time at Kritzerland – The Cisco Kid.  At the time we began planning it we thought we had Albert Glasser's tape of the TV show music.  The tape box had no information at all – just some cue numbers and the title The Cisco Kid. But finally, after a lot of research, I found that what we really had was the almost-complete score to the second of the Duncan Renaldo/Leo Carillo feature films, made just prior to the TV show – one called The Gay Amigo.  Of course, Glasser recycled much of his scores for this series of films for the TV show.  These came from Mr. Glasser's acetates and our ace Chris Malone has done all he can to clean them up and he's done his usual excellent job.  It's a really fun score, and anyone who's loved the TV show as I did, the main title is the TV show theme.  Oh, Cisco!  Oh, Pancho!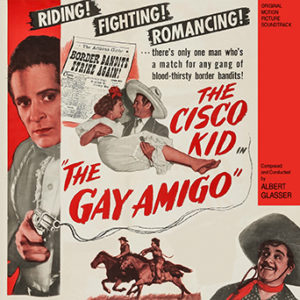 Yesterday wasn't too bad a day at all.  I only got about six hours of sleep, got up, answered e-mails and liked a few belated Facebook birthday wishes, then I had a meeting about the musical revue and our next steps for it, which will hopefully happen in February of 2019.  Then I hurried to the theater.  Our boy kid is sick so I made sure that the other four kids remembered how to do their stuff without him – he was sick for much of our rehearsal period, too, and it looks like he'll be out next weekend, too.  We were a full house for the matinee, which was fun.  I think there were only two empty seats.  The show wasn't quite as sharp as the previous two, which seems to be a Sunday "thing" so I'm going to try and get it so that we're consistent from show to show.  That is my new goal here and I shan't rest until I'm successful and everyone can thank me later. Still, it was a good show, and the audience was very nice and much more vocal than our two previous Sunday houses. We did a talkback after and that was really fun.  And so many lovely people came up and were very complimentary about the score – that always makes me happy.  Several said they were moved to tears.  We sold six CDs (and five yesterday) so that was nice.
Dear reader Jeanne and her friend were there and seemed to have a good time, and Kerry O'Malley and Joe Keenan were there, too.  Joe bought one of the CDs.  And I have to say that Peyton Kirkner gave her best performance, and that's saying something. After that, I stopped at Gelson's and got a couple of things from the hot food bar, then came home.  I ate the foodstuffs, got everything ready for our announcement, and then sat on my couch like so much fish.
Last night, I watched a documentary on the Flix of Net entitled Harold and Lillian: A Hollywood Love Story, about storyboard artist Harold Michelson and his wife Lillian, a film research expert.  It was very sweet and very interesting and I enjoyed it very much. After that, I made sure the pages were working for our new releases, and then I listened to music.
Today, we have to get it together to ship out everything that hasn't been shipped, and also all the Indiegogo stuff, so the helper will be over at some point and we'll get on that.  Otherwise, I think I can relax a bit, hopefully print out a LOT of orders, eat, hopefully pick up packages, hope for a miracle or two so that I can actually survive the beginning of the week, finish casting the January Kritzerland, start choosing songs, figure out a couple of late December dates to do a few of the coaching sessions that were taken in the Indiegogo campaign.  Then I'll relax and watch something.
The rest of the week is meetings and meals, and winding down so that the final two weeks of the year are mine all mine.  Lots to do before that, however.
Well, dear readers, I must take the day, I must do the things I do, I must, for example, get stuff shipped, hopefully print out a LOT of orders, eat, hopefully pick up packages, hope for a miracle or three, finish casting, choose songs, and then relax.  Today's topic of discussion: If you could make a documentary about anyone in Hollywood history that hasn't had one about them, who would it be and why? Let's have loads of lovely postings, shall we, whilst I hit the road to dreamland, happy to announce our final two releases of 2018 and to finally title the notes, "Oh, Cisco!" "Oh, Pancho!"