Well, dear readers, I am sitting here like so much fish, listening to some Elgar via Charles Munch, although Elgar is almost done and next up will be Prokofiev's Romeo and Juliet suites. Isn't that fascinating? Doesn't this first paragraph already have a sense of purpose and rhythm? I find that sense of purpose and rhythm fascinating. Hey wait a darned minute – I think there's a song title in there somewhere and I think I may just write it – Fascinating Purpose.
Fascinating purpose
You've got me all agog
Fascinating purpose
I'm so excited
Like a bowl of Jell-O
Or Spam inside a can
I'm just saying hell-o
And you're invited
This big soiree that we call the notes
They're filled with pith and nice anecdotes
Oh, how I long to say right now
What is it, fish?
Fascinating purpose
Oh, won't you stop dishing the dish.
I think it's a hit, don't you? I think it has it all, don't you? Perhaps we can make it go viral. Perhaps not. And now, Prokofiev has taken over with the ballet Romeo and Juliet and I am twirling and landing in fifth position before doing my famous pas de deux pour un. Wouldn't it be fun to do a mash-up of Prokofiev and Bernstein's West Side Story music? What the HELL am I talking about? I do know that I watched a motion picture earlier entitled Malone, starring Burt Reynolds, Scott Wilson, Cliff Robertson, and Cynthia Gibb. It's quite amateurishly directed, and the story is every cliché in the book, but I like Mr. Wilson and certainly like Miss Gibb so I finished it. David Newman wrote what would have been a good score were it not for the ridiculous 1980s synth drums.
Yesterday, I got a bit over eight hours of sleep, but got up very late due to not going to bed until four-thirty in the morning. I arose about one-thirty in the PM. I answered e-mails, had some telephonic conversations, did some things that needed doing, picked up one package when there were two there, which I hate, and I even said there should be another. Next time, I don't leave without all packages. I went next door and got a Subway pastrami to go, came home, and ate it all up and it was very good.
Then I did a test for today's interview thing – if you want to watch it, that information is in a paragraph or two. Then I watched Malone, after which I proofed two chapters. Then I took a shower, and after that I do believe it was time to write these here notes.
Today, I'll be up by noon at the latest but hopefully by eleven. I'll do whatever needs doing, then we do the interview thing at two PDT and five EDT. Tune in if you like. Information below.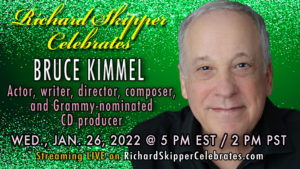 Information is above, for those who may be reading the notes backwards. After that, I'll hopefully pick up some packages, including the one I could have gotten yesterday, then I'll eat something light but fun, and then I can continue proofing – I've been lax, oh, yes, I've been lax, and I must finish the proofing by Friday. At some point, I'll watch, listen, and relax.
Tomorrow is more of the same, Friday I'm attending an opening night preceded by a dinner, Saturday I'm not sure what's happening, and I'm waiting to hear about the casting session for Sunday morning.
Well, dear readers, I must take the day, I must do the things I do, I must, for example, be up by noon or earlier, do whatever needs doing, shave and shower, do an interview, hopefully pick up packages, eat, proof, and then watch, listen, and relax. Today's topic of discussion: It's Ask BK Day, the day in which you get to ask me or any dear reader any old question you like and we get to give any old answer we like. So, let's have loads of lovely questions and loads of lovely answers and loads of lovely postings, shall we, whilst I hit the road to dreamland, happy to have written a brilliant new song entitled Fascinating Purpose.