Well, dear readers, I tried making scrambled eggs for the first time without adding milk since milk is not Keto friendly. I'm getting sick and tired of what's not Keto friendly, frankly, or frankly friendly. What the HELL is Keto's problem? It's so standoffish, Keto is. Yes, I am at this point, dear readers, where I would like to kick Keto's teeth down its Keto throat. But I'll persist for another week and if I have not lost a minimum of at least seven pounds then I may have to be done with it because it is entirely too frustrating. Where was I? Oh, yes, scrambled eggs without milk. I know that food wags say that's the only they should be made, but after this batch I'm not sure I agree with the wags. Part of the problem was that the minute I poured them into the frying pan I had to deal with a telephonic conversation to fix something in the Blu-ray booklet for Tonight's the Night. By the time I finished with that the eggs were like an omelet, so I went with it, put some cream cheese on top and folded it over. And it was soooooo gross. I ate it and threw out most of the cream cheese. I wanted to vomit on the ground, if you must know, and you must. Thankfully, I had a new Blu and Ray to watch, George Balanchine's The Nutcracker, filmed in 2011 and apparently shown in theaters. I loved the ballet itself – the choreography, the conception, the costumes and settings, and I thought the cast was very good and was especially impressed with the kids in it. It was ninety-two minutes of excellence. Well, save for the director/editor of the video. I don't know who these people are or what they think their aesthetic is, but they really do not understand how to film dance. I don't know how you can actually miss with twelve damn cameras shooting every angle known to man, but here's the deal, directors: When people are dancing, we don't want to see a close-up of someone while people dance off-camera, we really don't. The reason is simple: It's a ballet, not a portrait shoot. Also, how hard is it to be in the right place at the right time, editing-wise? Why are they always late getting to what we're supposed to be seeing? Why are they so afraid of a nice front shot when the entire ensemble is dancing, so we can see the staging, spacing, and patterns that Mr. Balanchine so carefully staged. Yes, you use your coverage, but you use it properly. It's really not brain surgery at all. And yet, every one of these ballet and opera videos are just so poorly directed for the camera. In the end, I did love what I watched. And after I'd posted yesterday's notes, I spent two hours on the Tube of You watching Balanchine videos – I totally loved Who Cares?, his ballet to the music of Gershwin. Beautifully done, and I would love to have seen it with its original company. I watched some short excerpts from La Valse, which I would love to see in its entirety, but alas that doesn't seem to exist anywhere. In fact, it is shocking how little Balanchine exists on home video. Shameful, really. Jerome Robbins, too. Then I watched most of the PBS documentary on Balanchine and that was very interesting. And now I'm listening to Charles Munch do Milhaud – the best recording of Suite Provencal and La Creation du Monde there will ever be, in the most brilliant RCA stereo ever. Did you know that if you add an "e" to "will" you get Weill? These are the things that you cannot learn on any other site on all the Internet.
Yesterday was a short day because I got nine hours of sleep, not arising until one o'clock. After the scrambled eggs disaster, I went to the mail place and picked up a package containing The Nutcracker, then came back home. Then a good deal of the afternoon was taken up with trying to fix a video problem with our new, shortened episode of the Animal Farm Outside the Box. I was never happy with the long version, which ran a bit over eight minutes, I think, and I really think I failed in its final two songs. They're okay but not great and don't really add much, and even when we were first editing that one, I kept asking if maybe we should end it after the first number. Well, that's what we've done. But it was transferred at the wrong frame rate, so Marshall had to go back and do it at the same frame rate as all the other episodes. This turned out to be an endless ordeal, because he first just tried to change the frame rate of the one that was wrong, but that didn't work. And he no longer had the long version, so I sent it to him, but he couldn't open it, or it wouldn't play or something. So, he got his assistant on it I sent him the link to the long version, he got it, and then from there it went quickly, and Marshall brought it to me on a drive and I got it to the Blu-ray people. The long version will still be available as an extra, and the uncut Psycho songs will also be included. I shortened the first two songs because the episode was running long, so this is the first time those will have been seen in their entirety. And so, onward we go. It's getting real now. Here's the Blu-ray wrap.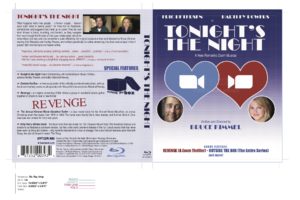 Because of the scrambled eggs fiasco, I needed something good, and I was really not in the mood for anything from Gelson's, so I ordered a Cobb Salad from Stanley's with ranch dressing. I'd never had one from there. It arrived and it was very, very good. And that was my food intake for the day, so not terrible and all Keto friendly.
After that, I had to sit on the couch like so much fish and watch The Nutcracker. After that, I cleaned out the refrigerator of a bunch of old stuff. I found some interesting things that I couldn't see – none of it Keto friendly, of course. Then I listened to music, watched some stuff on YouTube, and that was pretty much it.
Today, I'll be up when I'm up, I'll do whatever needs doing, I'll continue the Indiegogo organizing, I'll hopefully pick up some packages, I'll eat, and please do send your most excellent vibes and xylophones for the much-needed imperative reassuring news. We really need 'em. After all that, I'll watch, listen, and relax.
The rest of the week is doing stuff for the May Kritzerland, although I think that is hanging by a thin thread at the moment – if one of the cast members can't do it, then I'm not gonna do it, I think. We'll see. But mostly I need the reassuring news.
Well, dear readers, I must take the day, I must do the things I do, I must, for example, be up when I'm up, do whatever needs doing, continue Indiegogo organizing, hopefully pick up packages, eat, hope for reassuring news, and then watch, listen, and relax. Today's topic of discussion: What are your favorite egg dishes and/or breakfasts? For me, it would always be eggs benedict, which would be super Keto friendly were it not for the English muffin. Damn them, damn them all to hell. Otherwise, it's classic eggs and bacon, eggs over medium (whites firm, yellows run), rye toast with butter, and either great hash browns or home potatoes. Your turn. Let's have loads of lovely postings, shall we, whilst I hit the road to dreamland, where I shall hopefully not dream of yucklicious scrambled eggs sans milk.