The Aussies have landed! On April 23, the Australian Theatre Company was launched at the residence of the Australian Consular General in Los Angeles. Producers Nick Hardcastle and Nate Jones aim to harness the rich breadth and quality of Australian talent in the U.S. and share their voices, stories, culture and spirit with an American audience. One wishes they had chosen a more native story to inaugurate their endeavor.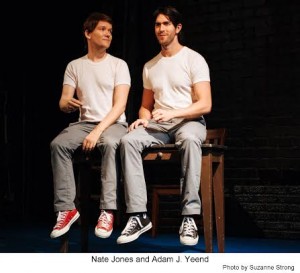 Tommy Murphy's Holding The Man was adapted for the stage from the memoir of Timothy Conigrave, an actor and gay activist. The play has been one of the most successful productions in Australia during the past decade while Conigrave's memoir won the United Nations Human Rights Award for Non-Fiction in 1995 and was listed as one of the 100 Favourite Australian Books in 2003. It tells the story of Conigrave and his 15 year relationship with his lover John Caleo. The two meet at Xavier College, a Jesuit run Catholic school in Melbourne in 1976 and are soon "going round" despite parental disapproval. After five years of being in a relationship, Tim feels it has gone stale and wants to open it up. John agrees but really doesn't act on it much but Tim does, enjoying the freedom of multiple sexual partners he meets in bars and saunas. The result is in 1985 they both test positive for the HIV virus. John has started a chiropractic practice while Tim, after attending the prestigious NIDA acting school, makes a living as an actor. Even though Tim feels certain he had HIV first and passed it on to John, it is John whose health suffers most. He beats lymphoma with chemo but he eventually succumbs in 1992. Tim outlives him by three years.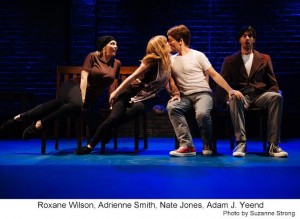 There have been a lot of plays written about HIV and AIDS since they first started appearing on stages in the mid-1980s. They have seemingly covered every possible angle of the health crisis. Holding The Man would seem to be arriving on a Los Angeles stage very late in the game. The setting of Australia may be new and a few terms—poofter, pash, dag, servo, spunk, spit—may add a little flavor, but it is pretty much the same story told time and again. Young gay lovers overcome their parents' disapproval and with the support of friends find happiness until a sense of missed opportunities threatens the relationship for a while but true love wins out except over the specter of Death. There is nothing new in this telling except the accents.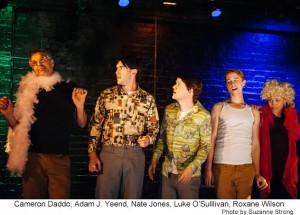 John Iacovelli's scenic design is basically a bare stage with a few tables and chairs but Jeremy Pivnick's lighting gives a sense of many different playing spaces. Larry Moss' direction is tight and efficient. The puppets by Alex "Jurgen" Ferguson add a bizarre touch at times. Nate Jones commands the stage as Tim, bursting with energy and youthful fire. Adam J. Yeeno offers strong support as the sweet and very lovable John. The ensemble of four—Cameron Daddo, Luke O'Sullivan, Adrienne Smith and Roxane Wilson—play many and varied characters, easily and expertly bringing them to life.
Matrix Theatre, 7657 Melrose Ave. in West Hollywood. Ends June 29. 323-960-7735 or www.holdingtheman.us