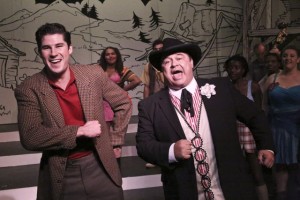 Decades before Gary Trudeau won a Pulitzer Prize (in 1975) for his political comic strip, Doonesbury, Al Capp had been taking potshots at sloganeering politicians in Washington and greedy capitalists in his Li'l Abner comic strip. The comic first appeared in 1934, got a Broadway musical in 1956 and a film musical in 1959. The show had a book by Norman Panama & Melvin Frank, who wrote gags for Bob Hope and also wrote some of the best comedy films of the 1940s & 1950s. The score had music by Gene De Paul and lyrics by Johnny Mercer. Even though it had a decent run of 693 performances and won two Tony Awards (for Edie Adams as Daisy Mae and for Michael Kidd's choreography), the musical has rarely been staged in Southern California. This long time reviewer's first sighting was the current production by the LACC Theatre Academy at the Caminito Theatre on campus.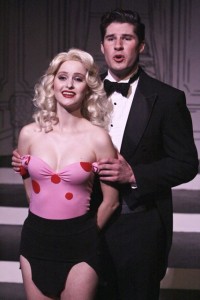 Director Bruce Kimmel trimmed the book, had David Siegel re-orchestrate the score for a five piece on stage "jug" band and through his crisp guidance brought the show in at a tight two hour running time. And the laughs flowed non-stop. These were not uncomfortable titters from an audience viewing a re-thought comedy like I recently experienced. These were full-bodied, from the pit of the stomach, belly laughs. Capp's, and Melvin & Frank's, political and social satire is still relevant today. The cast hit the punch lines with deadly accuracy and their stupefied takes were right on. Musical Director Wayne Moore led the band and the score sounded lovely and right in the flavor of the piece. Choreographer Kay Cole did some wonderful work with her large (32 person) cast. The varied tempos and characters involved in the "Sadie Hawkins Ballet" were well delineated. Tesshi Nakagawa provided the perfect black and white comic strip scenic design and James Moody's lighting design highlighted it smoothly. The costumes by Roxanne De Ment & Natalya Shahinyan were spot on, especially Daisy Mae's blouse which seemed painted on or affixed with magic tape. No credit was given for the makeup but the residents of Dogpatch wore so much dirt one feared for the environment.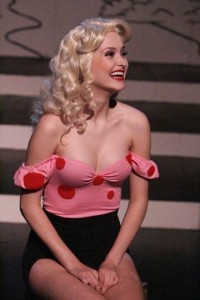 all photos by Michael Lamont
The cast was headed by the perfect-for-their-roles stunning twosome of Evan Harris and Maddison Claire Parks. As Abner, Harris made a tall, strapping hunk with the befuddled countenance of a truly gullible and trusting innocent. As Daisy Mae, Parks was winsome, winning and truly lovely. Plus they can deliver the laughs and boy can they sing. "Namely You" and "Love in a Home" were touchingly sung by the duo. John Massey as Marryin' Sam steals every scene. His double take and triple take to Daisy Mae's lament that she is "Past My Prime" at 17 had the audience howling for more. Massey also led the showstoppers "Jubilation T. Cornpone", with an able assist from Sami Staitman, and "The Country's in the Very Best of Hands" with Harris.
Also adding to the fun were Maureen McFadden and Jai Pellerin as the tiny but feisty Mammy and Pappy Yokum, Emily Barnett as Moonbeam McSwine, always with a piglet in hand, Riley Dandy as Appassionata Von Climax, the perfectly groomed Executive Secretary/Mistress and Moira McFadden as zoot-suited Evil Eye Fleagle. Alvaro Ramirez gave double talking politicians a send up as Senator Jack S. Phogbound while Barry Pearl gave an evil genius twist to his mad millionaire General Bullmoose. This show has a very limited run and deserves a much longer one, especially with the top trio of Harris, Parks and Massey reprising the leading roles. In the immortal words of Mammy Yokum, 'Ah has spoken!"
Caminito Theatre, Los Angeles City College, 855 N. Vermont Ave. in Los Angeles. Ends May 24. 323-953-4000.