Moliere was a favorite playwright at the court of Louis XIV in 17th century France. But when his Tartuffe premiered in 1664 it was immediately banned from further performances because the Catholic Church took offense at the nature of the title character. Although never said to be ordained, the character's pious and religious zealotry in public and his gluttony and debauchery in private, upset much of the court and the King went along with his advisors. It took five years, several re-writes and a new Pope before the play could be performed again. It was an instant hit, having a record-setting 44 performances at the Palais Royal. I first saw Tartuffe at South Coast Repertory's Third Stage Theatre in Costa Mesa in 1975 and remember having a really fun time. I also saw a production at A Noise Within in 1995 and was equally entertained. However, the new production at SCR is mostly devoid of laughs.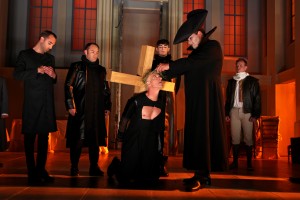 David Ball's translation and the highly stylized direction of Dominique Serrand have leached all the humor out of the piece. The uncomfortable titters emitted by the audience because of the weird staging and line readings are not the same as full bodied laughs elicited from an audience enjoying a truly fine French farce. Serrand has heavy handedly overstated the religious pomposity and hypocrisy of Tartuffe with operatic scoring, self flagellation, anachronistic costumes and a cathedral like scenic design. The lighting at times gives the piece a funereal tone. I don't think Louis XIV would have been very amused by this approach and neither were this viewer and his companion.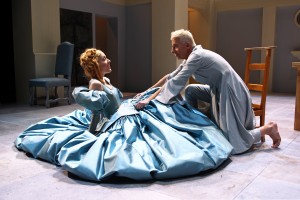 The actors are called upon to give over the top performances to match the staging and their posturing is so outlandish that they come off as cartoon characters, unfunny ones. Suzanne Warmanen as the mouthy maid Dorine produces the most laughs that come directly from Moliere's writing and not Serrand's shenanigans. Cate Scott Campbell plays Elmire, the young wife and object of Tartuffe's lust, with a naturalness that is as effective as it is out of place in this madhouse. The two of them deserve a better production more worthy of their talents.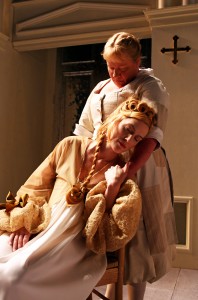 all photos by Debora Robinson
South Coast Repertory, 655 Town Center Dr. in Costa Mesa. Ends June 8. 714-708-5555.