The music of George Gershwin lives on long after his way too early death in 1937. Luckily he was very prolific during his short life and left a large body of work, many songs considered classics and part of the Great American Songbook. Performer/composer Wayland Pickard is a long time Gershwin aficionado and has written a new Gershwin infused musical, The Ghost of Gershwin, being given its World Premiere at The Group Rep in North Hollywood.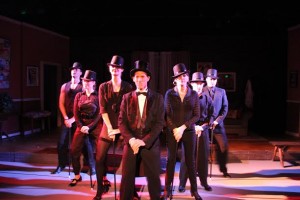 Pickard wrote the show's music and also wrote the lyrics with Laura Manning. Doug Haverty contributed the book which, though set in modern day Brooklyn, has the kooky offbeat feel of the 1930s era Gershwin musicals. The music is pleasant and there are some tunes that sound like they could have come from a Gershwin score of yore. The lyrics are more problematic at times with groan inducing rhymes such as omen/no man. The cast is personable and charming, possessing stronger talents as dancers than singers. Jules Aaron's direction keeps the show running smoothly and, along with Chris Winfield, he also contributed the lovely set design. The show starts off with the cast of seven in tux and tails tapping their way through "Time." With the top hats, canes and high kicks, Michele Bernath's choreography is highly reminiscent of the finale from A Chorus Line. Bernath redeems herself in the second act with the lovely ballet, "A New Beginning," the show's highlight.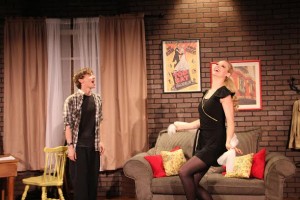 Haverty's book requires you to check your logic at the door. The plot is murky at best; it stutters, stops and chugs along. Grant (Andrew Bourgeois) is a composer who wants to do film scores because he has trouble with lyrics. He's nearly three months behind on the rent but the kind apartment manager and cabaret performer Coronelia (Suzy London) lets him slip by on his charm. His former fiancée Nessa (Emma-Jayne Appleyard) left him at the altar three years earlier, instead running off and marrying his best man Dennis (Gregory Guy Gordon). The now unhappily wed couple lives upstairs and the threesome are still very friendly. Nessa has a big audition coming up and she and her gay choreographer friend Wilfred (Kyle Bares) ask Grant to write a song for her. Then there is Mel (Jean Altadel), a young, winsome aspiring singer/actress who, while waiting to age into her character roles, is installing tile in the building's apartments. She discovers an old upright piano in the basement that may have belonged to George Gershwin when he was a teenage tenant. When Grant reads a note stuck in the piano, the ghost of Gershwin (Daniel Lench) appears to him. He's there to help Grant with his lyrics and his love life but he only has 38 hours, one for every year of his life. A lot happens in those 38 hours. Nessa kicks Dennis out and he moves in with Grant who still carries a torch for Nessa. Grant gets his lyric writing mojo courtesy of Gershwin and writes song for everyone. Wilfred flirts with Dennis who suddenly, and I do mean suddenly, decides he's gay and comes out and forms a happy couple with Wilfred. Grant finally realizes Nessa is not for him but maybe Mel is.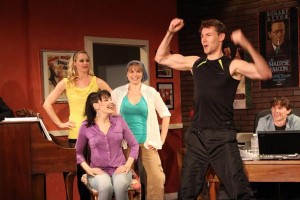 Bourgeois has the best voice in the cast and his easy charm carries the evening. Bares also has a decent voice, good terpsichorean skills and winning charisma. He is a delight in the gay "Spice Guy" number which details his rocky love life while dancing three different styles—Latin, Irish and Russian. Appleyard excels in her ballet. Altadel as Mel is a perky sparkplug and in one of the plot's weirdest twists Grant writes a song to suit her personality and it turns out to be "The Blues." Casting is also a bit problematic. Gershwin died at 38 but Lench looks a mite older than that. The character does say he is not in Heaven or Hell but some other place. Maybe people there keep aging after death. Lench also tends to play the role more Georgie Jessel than George Gershwin. Then there is the height differential between Grant and Nessa; she towers about a head and a half over him. Maybe opposites do attract and that's why they were heading down the aisle to be married but their love duet, "The Things You Wear," comes off comical rather than lyrical. The Ghost of Gershwin is pleasant if underwhelming. Nice effort by all involved in creating an original Gershwin musical from the ground up.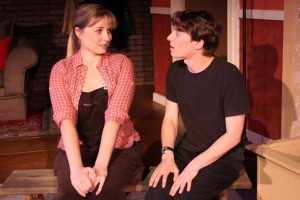 all photos by Sherry Netherland
The Group Rep, 10900 Burbank Blvd. in North Hollywood. Ends June 22. 818-763-5990 or www.thegrouprep.com