Benjamin Scuglia's title for his Hollywood Fringe Festival offering, 3 Short Plays About Sex, is truth incarnate. The three plays are about the sexual exploits of men and together the three one-acts run less than 40 minutes. And they are 40 well spent minutes. Ernest McDaniel has economically directed and his cast of two—Max Bird-Ridnell and Frank Gangarossa offer varied performances.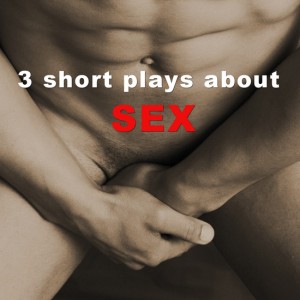 First up is Rubbed Out which finds two friends spending the evening across a card table. Bird-Ridnell has been in the bathroom getting himself off while Gangarossa was out buying beer. When his friend can't believe his claims of constant self-gratification make him feel like Superman, the orgasm expert proceeds to give him a Master Class in Masturbation.
In Sloppy Seconds, Gangarossa can't believe it when Bird-Ridnell tells him he doesn't enjoy their one night a week bar hopping and woman hunting. He wants more of a relationship but Gangarossa has other friends for other needs. Bird-Ridnell is the stud's wingman and that's the way he wants it to stay. They negotiate a bit and the terms of their relationship are altered slightly by blackout.
Gay-For-Pay is the longest piece, no pun intended, and the one with the most depth. Budding gay-for-pay would be porn actor Bird-Ridnell has asked to meet his also straight porn scene partner. He has never felt special before he ended up stripping at a gay club during his gay cousin's bachelor party a few weeks ago. Now he thinks he is ready to take the next step. Gangarossa's nom-de-porn is Dick Pounder and, although he's not even bi, he loves working in gay porn because of the attention he receives. The two end up having a very serious and meaningful dialogue before parting ways.
The actors show much range. Bird-Ridnell etches a nice transition from the cocky masturbation master of his domain to the shy, inquiring wannabe porn actor while Gangarossa's arc goes in the opposite direction. His joyless masturbator and then cocksure ladies' man ends up being a man in full control of his sexual appetites and their outlets.
Lounge Theatre, 6201 Santa Monica Blvd. in Hollywood. Ends June 28. www.hollywoodfringe.com