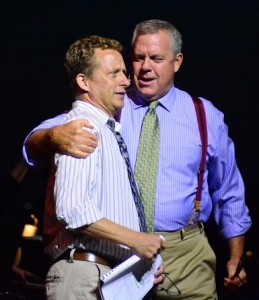 Stan Chandler and John Sloman
City of Angels won 6 Tony Awards in 1990 including one for Best Musical. A sit down production in 1991 at the Shubert Theatre in Century City had a long run and featured several local L.A. actors in ensemble roles. The spectacular set by Robin Wagner split the stage into two separate worlds, a 1940s Technicolor version for the travails of novelist Stine adapting his gumshoe tale to the big screen while his PI Stone muddled his way through a black and white film noir Hollywood. This reviewer wasn't all that taken with the show and has never lamented not seeing it staged at local theatres in the past two decades. Seeing a stripped-down-to-the-essentials staged concert reading by Musical Theatre Guild did not change my mind. It did make me appreciate Larry Gelbart's book which has enough twists and turns to make Raymond Chandler jealous. The Stine portion of the story is the rote art versus commerce dialogue as an author sees his prose turned into pabulum for the masses. The film noir story is a tale of Pasadena wealth complete money grubbing relatives, feckless men and femme fatales.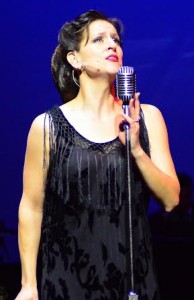 Melissa Lyons Caldretti
The fun wordplay crosses over into the lyrics of David Zippel. The Cy Coleman score is very jazz oriented, there is even an Angel City quartet on hand, but jazz is a musical discipline I've never really enjoyed. There are some lovely ballads though. And one thing you are always sure of at a MTG reading, it will be the best sung version of the show you have ever heard. An added joy here is that the cast gets to play two roles, one in movie-making Hollywood, the other in the film noir they are making. Kevin Symons is easily a match for Bogart, Powell and other 1940s era detectives, plus he can sing. Stan Chandler effortlessly conveys the frustrations of a novelist fighting the Hollywood system. The two men power their way through one of the best buddy duets ever, "You're Nothing Without Me." Melissa Fahn is a real winner as studio assistant Donna and PI Girl Friday Oolie. Her "You Can Always Count on Me" is a showstopper. Melissa Lyons Caldretti soulfully sings "With Every Breath I Take" as Stone's chanteuse girlfriend and also brings some gravitas to the role of Gabby, Stine's neglected wife. The ladies also team up for the hit "What You Don't Know About Women."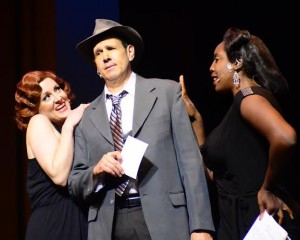 Laura Dickinson, Kevin Symons, Meloney Collins
Tracy Lore steals every moment she's on stage as the alluring Alaura, the deadliest of femme fatales. Her double entendre laden "The Tennis Song" sizzles and she can also rock wearing a turban. Ashley Fox Linton seductively sells "Lost and Found" wearing only a precariously attached bed sheet. John Sloman oozes sleaze and power as the egomaniacal producer/director Buddy Fidler. Christopher Carothers croons smoothly as Jimmy Powers. The on stage band played the score to perfection under the direction of Brad Ellis who also got a cameo as Del Dacosta. Joel Bishoff's direction was fine but there was not much he could do with the constant scene changes; they just didn't flow as easily as they would have in a major production. And because the book for this show is so intricate and intertwined it really could not be trimmed as is usually the case for these readings. The result was a long evening. A melodious but still lengthy outing.