Anthony Newley was a very talented, complex and conflicted man and artist. Along with writing partner Leslie Bricusse, he created some wonderful songs that have become classics—"Feeling Good," "Gonna Build a Mountain," "Once in a Lifetime," "Pure Imagination," and "Candy Man" among them. Jon Peterson's one-man show, He Wrote Good Songs, is part of the Hollywood Fringe Festival. It is too shallow a look into Newley's fascinating life. Here he emerges as a man with daddy issues who is a slave to his rampant libido. It's true that Newley was illegitimate and never knew his real father until late in life, but that can't be the whole story. It's also true that he was not able to be faithful for a moment, even when married to a sexy star like Joan Collins.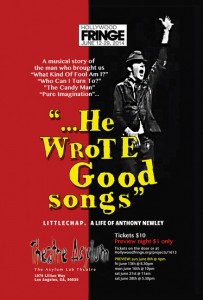 Newley himself exposed all his foibles and faults in his stage masterpiece Stop the World, I Want to Get Off and in his film Can Hieronymous Merkin Ever Forget Mercy Humppe and Find True Happiness? Peterson's voice lacks the deep resonance of Newley's but he does well enough with the songs. He did a good job of working some of the songs into the story of Newley's life that he created. This isn't a "and then he wrote" show by any means. What is really lacking in Peterson's writing and characterization, as well as in Gwen Hillier's direction, is the innate sense of theatricality that was Newley. Joshua Kranz provides accompaniment on keyboards but the songs cry out for a bigger sound.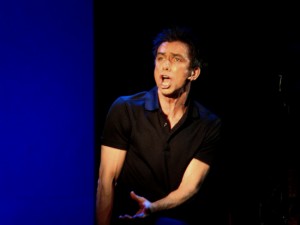 Peterson might want to rethink the ending of his show. He follows Newley through the later stages of his life, complete with cancer, death and perhaps the afterlife. There is a point about ten minutes before the curtain call when Newley has a final triumphant return to performing. Peterson dons the iconic white makeup of Newley's creation Littlechap and delivers a poignant "What Kind of Fool Am I?" That would be a fitting end to his tale.
Asylum Lab Theatre, 6230 Santa Monica Blvd. in Hollywood. Ends June 28. www.hollywoodfringe.org