Lee Blessing is one of my favorite living American playwrights. He is best known for his Tony Award and Pulitzer Prize nominated two character play, A Walk in the Woods. His Two Rooms succinctly portrayed what it was like to be a political hostage as well as what it was like to be a loved one caught up in government bureaucracy awaiting news. His Down the Road was a look into the mind of a serial killer while Fortinbras and The Scottish Play were comic riffs on Shakespearean tragedies. To this writer, his finest work is Eleemosynsary, a beautiful, poetic work about the familial ties of three generations of females. The four female family members in Independence don't share much of that beauty or poetry. They are bitter, angry and in desperate need of therapy.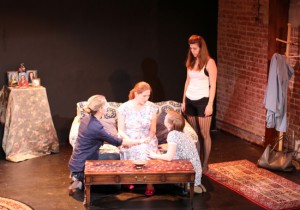 Vernee Watson has tightly directed the nine-scene play that traces eleven contentious days in the Briggs household in the small town of Independence, Iowa. She strongly cast the play and then skillfully led them through the many heated exchanges. Eldest daughter Kess (Kat Muldoon) has returned home from Minneapolis at the request of her sister Jo (Jenny Simpson). It's been four years since Kess visited. The last time she was home she committed her mother Evelyn (Shelley Phillips) to the local Mental Health Institute and arranged for the adoption of her fifteen year old sister Sherry's (Lauren Benge) baby. Now she finds her mother is working in the Crafts department of the MHI and her other sister is pregnant, as well as suffering from chips in her neck from a shove she received at the hands of her mother.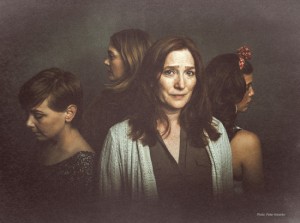 Jo is the caretaker of the family, determined to stay with her mother, turning down a marriage proposal from her baby's daddy. Sherry, 19 and still in high school because of that early pregnancy, is a budding sculptress who is into having meaningless sex with any man passing by. She's ready to leave home the minute she graduates. Kess left home early and has a successful career as a professor as well as a solid relationship with another woman. She really doesn't want to deal with the messy details of her family's lives. Is Evelyn having a relapse or is she just afraid of being alone? That is what her daughters have to figure out as each seeks their own form of independence.
Lounge Theatre, 6201 Santa Monica Blvd. in Hollywood. Ends June 28. www.hollywoodfringe.org