Actors are very familiar with Meet & Greets—auditions for a role without actually having to audition. Four actresses of a certain age find themselves in the casting office from hell (literally) vying for the same role in a pilot for a new TV series in the Hollywood Fringe comedy Meet & Greet. Writers Stan Zimmerman and Christian McLaughlin, although male, seem to know the ins and outs of their female characters perfectly. They also know the vagaries of the biz—writers and show runners replaced with younger and newer faces who have a completely different take on the material.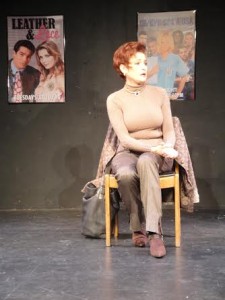 Carolyn Hennesy
They have cast four actresses who don't just deliver performances that are comic gems, they inhabit these characters like a pair of comfortable Jimmy Choos. Margo (Carolyn Hennesy) is the first to arrive. She's flown in from New York where she's the toast of Broadway, having won five Tony Awards. (It would have been six if Angela Lansbury had only retired or died.) Hennesy is grace and dignity personified and gives looks that could maim if not kill. Belinda (Vicki Lewis) is a former sitcom star who has fallen on hard times—Cinemax soft porn films, alien abduction, tabloid headline after tabloid headline. She is a manic schizophrenic hot mess played to perfection by Lewis. Belinda blames her misfortunes on Teri (Teresa Ganzel), her blonde bombshell co-star who left the series after two seasons for a film career which resulted in the show's cancellation. Teri's film career has now been snuffed out and she's selling her own line of products, everything from bottled water to hemorrhoid cream. Ganzel does the dumb blonde better than most, yet she also adds that layer of believable subtext to her character. Desiree (Daniele Gaither) is a Bravo reality TV show star, not a Housewife but rather a Housecleaner. But her own show has been cancelled when her family refused to be filmed and she's now trying her hand at "actressing." Gaither is all in your face ghetto diva and she nails it.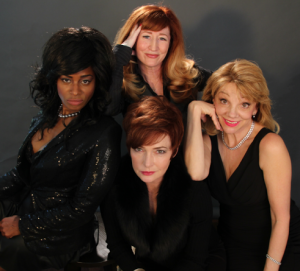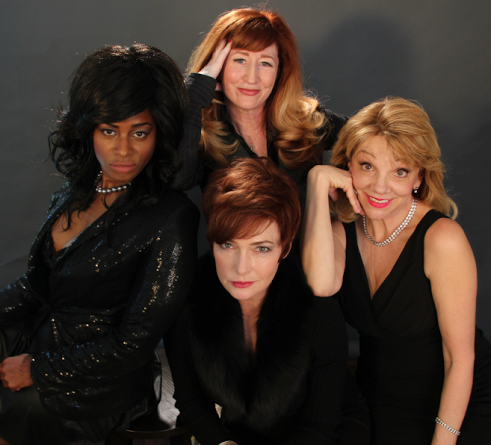 clockwise from top Vicki Lewis, Teresa Ganzel, Carolyn Hennesy and Daniele Gaither
Zimmerman has also directed and the 80 minute show zips along at a fast pace. Laughs are constant and plenty, even gut busting at times. Names are dropped about every minute or so, from the Kardashians to Elizabeth Taylor. Each actress has been given a wonderful monologue and each nails it expertly. Paul Iacono gives great support as the tres gay casting assistant. The script takes an unexpected twist near the end. It's a plausible twist but the show should end there. Instead it plods on for another ten or fifteen minutes, wearing out its welcoming and losing its laugh a minute pacing.
Theatre Asylum, 6230 Santa Monica Blvd. in Hollywood. Ends June 28. www.hollywoodfringe.org