John Wilkes Booth forever lives in infamy as the assassin of President Abraham Lincoln. He was born into a theatrical family and his one act of violence tends to overshadow their fame and accomplishments. His father was the renowned English actor Junius Brutus Booth and his older brothers Junius Jr. and Edwin were also well known. Edwin Booth is still considered the greatest actor of the 19th century. Their sister Asia was the writer in the family, until her marriage and Lincoln's assassination. From her expatriate home in England, she wrote John Wilkes Booth: A Sister's Memoir which, because of the incendiary subject matter, was not published until 1938.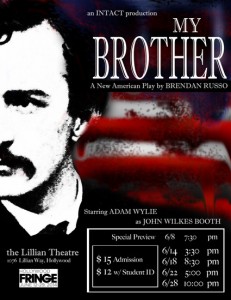 There would seem to be great drama in the telling of their story but Brendan Russo's My Brother is not it. Presented by Intact Productions as part of the Hollywood Fringe Festival the play runs two hours without an intermission. It is in desperate need of trimming and refocusing but Russo also directed. Another point of view may have helped solve some of the problems. Russo's florid writing and stagnant staging as well as his tendency to let the actors over emote give the piece the feel of a melodrama the likes of which the Booths never had to perform. They were all Shakespearean actors, the three brothers even appeared together in Julius Caesar, and their story has true tragedian qualities but Russo is at a loss to write it or stage it.
There are tantalizing hints of what might be. John Wilkes Booth was the result of his mother's fourth pregnancy in the same year. After suffering three miscarriages she asked for a sign that her latest child will be meaningful and supposedly saw the flames in the fireplace spell out "country." At age thirteen, Wilkes visited a fortune teller in a traveling gypsy camp and was told he would have a short life but would achieve greatness. Booth Sr. died from his alcoholism and his sons Edwin and Wilkes seem just as addicted to drink. Wilkes became a state's rights fanatic after helping in the capture and hanging of John Brown. Then while a Confederate spy, he became engaged to the daughter of an abolitionist Senator from New Hampshire. These highpoints are all presented flatly and really don't resonate. The cast is competent and headed by Adam Wylie, Vince Major and Eryn Guyton as Wilkes, Edwin and Asia respectively.
Lillian Theatre, 6320 Santa Monica Blvd. in Hollywood. Ends June 28. www.hollywoodfringe.org