Producer Chris Isaacson presented his third annual Night After the Tonys at the outdoor John Anson Ford Amphitheatre on Monday, June 9. It was a stroll down memory lane with hit after hit from past Broadway shows performed to perfection by Linda Eder and her Special Guest Constantine Maroulis.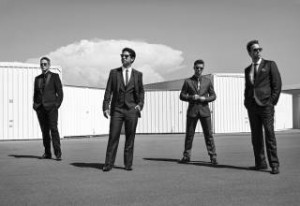 photo by Scott Witter
The evening opened with a rousing performance by the Company Men, America's first Mashup Group. Daniel Tatar, Shawn Perucca, Stuart Ambrose and Brian Purcell all have great voices and they wonderfully blend them in their act. They create a very Motown sound and their choreography is very reminiscent of the Four Tops and the Temptations, but these guys are not a carbon copy.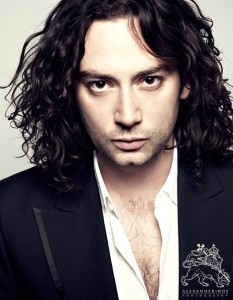 Constantine Maroulis' roots are in musical theatre, he now has a couple of Broadway credits and a Tony nomination so take that Simon Cowell. Maroulis was often criticized by Cowell on American Idol for sounding too Broadway (if there even is such a thing). Maroulis started his set with "Heaven on Their Minds" from Jesus Christ Superstar demonstrating he would make a great Judas. He also provided ammunition for a revival of Chess with his rendition of "Pity the Child." He sang "Waiting for a Girl Like You" from his Tony nominated role in Rock of Ages. All the songs hit the sweet spot of his tenor voice. He proved to be a real charmer with his patter and playfulness with the audience. He ended his act with a shout out to his time on Idol with "Bohemian Rhapsody."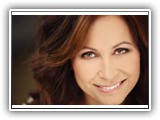 Linda Eder became a recording and concert phenomenon after winning Star Search in 1988. She possesses one of the most glorious voices in the business and the act is her personal trip down memory lane. She began with "The Theme from Ice Castles" which won her the "kinder, gentler" TV competition. She hit all the high notes with ease in "Climb Every Mountain," a song she first sang in her high school musical. She displayed her country roots with "I'm Not Lisa" and showed a jazzy zing with "Blue Skies" and "Stormy Weather." Her vocal range is amazing and her personality really shined through in her patter between songs. She has a deep love of Broadway music and "I Dreamed a Dream" from Les Miserables, "Don't Cry For Me Argentina" from Evita and the title song from Man of La Mancha had the audience on their feet and cheering. She didn't neglect her own Broadway outing in ex-husband Frank Wildhorn's Jekyll & Hyde. Maroulis joined her for a sensuous duet of "Dangerous Game." Although they appeared in different versions with different lyrics they really sold it. Her rendition of "Someone Like You" always thrills. Eder ended the show with a tribute to the singer and song that first made her want to be a performer, Judy Garland and "Over the Rainbow." She brought her own special magic to this well-worn tune. It was a great night to celebrate Broadway and the singers had great accompaniment from the musicians behind them.