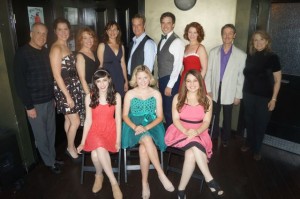 all photos by Karen Staitman
Kritzerland Records' June offering at Sterling's Upstairs at the Federal was a tribute to pioneering female lyricist Dorothy Fields. If she had only written the songs for Sweet Charity and Seesaw, two of my all-time favorite musicals, I would have been content to love her work. But she wrote the lyrics to about a dozen other Broadway shows plus she wrote songs with Jerome Kern for the movies, especially for the Astaire/Rogers Swingtime.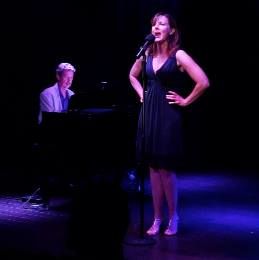 Kim Huber
Producer Bruce Kimmel gathered a great roster of talent and chose 20 songs that showed the range of Fields' writing. Kim Huber was a standout with the mash up of "I'm in the Mood for Love/I Can't Give You Anything but Love." She showed her comic chops with "A Fine Romance" and broke your heart with "Make the Man Love Me." Tara Browne did a heartfelt "Pink Tafetta Sample Size 10," a song that was cut from the score of Sweet Charity.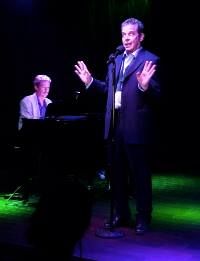 Robert Yacko
Robert Yacko lovingly crooned the Oscar winning "The Way You Look Tonight" as well as garnered a few laughs with the mash up of "I Won't Dance/Never Gonna Dance." Delightful Jenna Lea Rosen did dance, a tap break in the middle of the show's finale, "If They Could See Me Now." All she needed was a cane and a top hat to channel Verdon or Shirley MacLaine, depending on your preference. Sami Staitman had fun with "Nobody Does It Like Me" from Seesaw and her sister Sarah Staitman got laughs with "Exactly Like You." Guy Haines had fallen down earlier in the day and was still trying to get to his feet so Bruce Kimmel stepped in to sing "Pick Yourself Up."

Kerry O'Malley
Guest Artist Kerry O'Malley delivered a stellar "Where Am I Going," the eleven o'clock anthem from Sweet Charity which original star Gwen Verdon inexplicably often cut from her performances. Zachary Ford turned on the romantic charm with "Too Many Tomorrows" after cutting up with "You Couldn't be Cuter."

Cynthia Ferrer
Cynthia Ferrer displayed her comic timing with "He Had Refinement," a song written for Shirley Booth to sing in A Tree Grows in Brooklyn. Ferrer sang right through the mild earthquake that hit mid song, proving that for a pro the show always goes on. Ferrer also delivered the show-stopping finale from Seesaw, "I'm Way Ahead/Seesaw." If ever a show needed a revival that one does with Ferrer as Gittel.
Through it all, Lloyd Cooper delivered his usual superb accompaniment on piano while Kimmel provided fun trivia on the songs and the shows for which they were written.