In Roommates, David Evan Stolworthy's offering in the Hollywood Fringe Festival, Shane (Marc Leclerc) is ready for his sophomore year at college to begin. His hometown pal Josh (John Everett) is helping him move his stuff into his new dorm room. Josh wants Shane to ask for a roommate transfer so they can be together but Shane is eager to meet freshman Jace (playwright Stolworthy), who he has already befriended on Facebook. Shane is looking for someone to pal around with so he can escape his clinging and needy girlfriend Emily (Cheyenne Pettijohn). When Jace finally arrives he and Shane seem to hit it off and go out bowling and drinking. Josh is very hostile and tries to bully Jace out of his roommate situation while Emily's gal pal Tina (Katie Rodriguez) shamelessly flirts with Jace.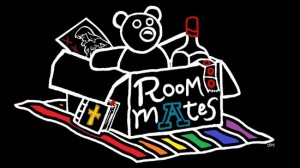 Josh inadvertently outs Jace when Jace attempts to clean up the messy burger Josh left on his bed with a Pride T-shirt. Then the shit and homophobia really hit the fan. Josh proves to be an empty headed and violent redneck while Emily gifts Jace with a bible and tries to convert him into going straight. Meanwhile Shane has gone into major homosexual panic mode. Tina is the only voice of reason but she is shouted down by the others. Over a few days the situation evolves into several brutal beat downs. Emily doesn't help Shane's peace of mind when she decides to sexually experiment with Tina.
There is promise in Stolworthy's writing, he creates some nice bonding moments and some bittersweet exchanges. He also hauls out all the tired and clichéd tropes about homosexuality and he is given to hyperbole—are all college students this loud and obnoxious? He is in desperate need of a dramaturge to shape and refine his writing. Director Mahea Lani is not much help to him as she tends to ramp up the physical action and volume beyond the script's needs. Nothing is spoken if it can be shouted.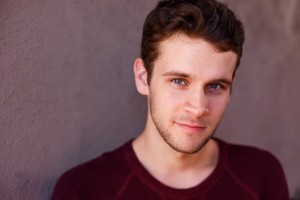 David Evan Stolworthy
The cast (mostly understudies at the performance reviewed) acquit themselves well. Stolworthy is a calm and endearing presence as Jace and Katie Rodriguez makes the most of her every moment as Tina. Pettijohn does dumb, vacuous blonde very well. Leclerc literally spends the show bouncing off walls and shouting to the heavens. A bit more finesse might make Shane a more likable person.
Complex Theatres, 6476 Santa Monica Blvd. in Hollywood. Ends June 28. www.hollywoodfringe.com