Singer Sandy Bainum returned to Sterling's Upstairs at the Federal on June 22 to salute her favorite lyricist in 'S Wonderful: Sandy Sings Ira Gershwin. Ira lived much longer than his composer brother George Gershwin and provided lyrics to many other composers such as Harold Arlen, Burton Lane, Jerome Kern and Kurt Weill. Bainum provided fun commentary and background as she performed hit after hit from the Great American Songbook. She had a winning way with the audience and kept them entertained with her patter as well as her vocal prowess.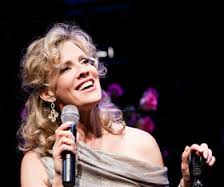 Among the highlights were the haunting ballads "Long Ago and Far Away" and "They Can't Take That Away From Me." She got through the tongue-twisting "Tschaikowsky" twice and garnered well deserved laughter and applause. The song originally made Danny Kaye a star in Lady in the Dark. She performed a 'S Sexy and 'S Jazzy version of "'S Wonderful." Bainum also displayed her amazing range when she let her soprano out to play in "By Strauss." She showed her acting prowess with a heartbreaking rendition of "Man That Got Away."
Bruce Kimmel directed the act and Lanny Meyers was Musical Director and led the five-piece band on piano. It was the first time I've seen such a large group back up a singer at Sterling's and it might have been too much for the small space. The band, especially the percussion, was too loud during the up tempo numbers, often drowning out the vocals. They were much better in the softer numbers and really enhanced the musicality of the evening.