In Some Girl(s) serial romancer Guy (Gregorgy James) is 33 and engaged to be married. He is a teacher and a successful writer. His piece in The New Yorker has received interest from HBO for a series. Before his wedding, he decides to crisscross the country righting wrongs and gathering new material. Sam (Laura Hartley) is the high school sweetheart he dumped a few weeks before the prom. Even though married with children, she harbors a lot of bitterness. Tyler (Dana Kalan) is still the good time party girl Guy hooked up with while doing graduate work at Northwestern. Together they explored many and varied sexual adventures and she is game to start it up again but Guy demurely declines.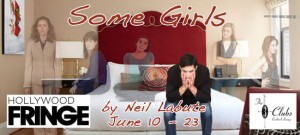 Lindsay (Rachel Parker) is the older married woman Guy had an affair with while in college in Boston. They were discovered and Guy fled town leaving Lindsay to face the consequences with her husband. She cleverly exacts her sexual revenge before departing. Bobbie (Brianne La Flair) may be the one true love of Guy's life, or was it her twin sister. Anyway, his young bride-to-be looks very similar to Bobbie. Reggie (Katherine Diaz) was the youngest of Guy's conquests and perhaps the most damaged or maybe she's just well adjusted. Guy was 17 when he took advantage of his best friend's sister on her 12th birthday. Their kiss may have been inappropriate enough but the drunken Guy went further and Reggie has always waited for his marriage proposal or apology.
David Svengalis has done a masterful job of directing in the small confines of the Three Clubs Cocktail Lounge. The simple changes to the set depict five different hotel rooms in various cities. His cast is top notch. James gives a nuanced performance as the rake seeking redemption as well as further material for his writing career. Of the women, Kalan is a delight as the free-spirited Tyler while Diaz evokes heartbreak, shame and resilience in a few short minutes.
Three Clubs Stage Room, 1123 N. Vine St. in Hollywood. Ends June 23. www.hollywoodfringe.org