Jason Robert Brown is one of my favorite Broadway composers of the post-Sondheim generation. His score for Parade is among the best of the 1990s and he deservedly won the Tony Award that year. He just won the Tony Award again this month for The Bridges of Madison County and from the excerpts I've heard, it's one of the lushest Broadway scores of the past decade. His Last Five Years is a very tender chamber piece for two, soon to be seen on motion picture screens. His first show appeared off-Broadway in 1995 and was a song cycle known as Songs for a New World. The new A Cuppa Tea Theatre Company is presenting it as their first offering as part of the Hollywood Fringe Festival and it is not to be missed. Ninety minutes have never seemed so short. The performance I attended had the smallest audience of any Fringe show I've seen so far this month, but they were extremely enthusiastic and deservedly so. This show should be playing to sold out SRO audiences every time out. It's one of the best shows I have seen since my return to covering the Los Angeles Theatre Scene seven months ago.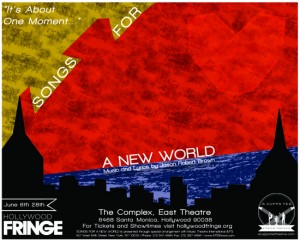 The cast of four is exemplary; you would be hard pressed to cast it better. Their harmonies are heavenly and they nail their solos to the wall. Emily Morris gets things off to a melodic start with "Opening A New World" and as the other three cast members add their voices the song builds into a rousing anthem. Morris also shines with "I'm Not Afraid of Anything" and "Christmas Lullaby." Sherry Mandujano really displays her finely honed comic chops in "Surabaya Santa," rocking a German accent and Marlene Dietrich attitude. She's more manic in "Just One Step," in which a woman is driven to the edge of a ledge by her marriage. Then she breaks your heart with the wistful "Stars and the Moon" and then proceeds to break it further with her impassioned delivery of "The Flagmaker , 1775."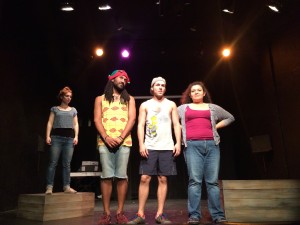 Emily Morris, Keith Montanez, Scott Weston and Sherry Mandujano
The men are easily the equal of the women in this cast. Keith Montanez gives a soulful rendition of "She Cries" and makes a strong duet partner with Morris on "I'd Give it All for You." Scott Weston shows the most range and each of his numbers is stellar, from the haunting "On the Deck of a Spanish Sailing Ship, 1492" to the plaintive, passion-filled "King of the World." His affecting "Flying Home" leads the cast into the joyous finale "Hear My Song."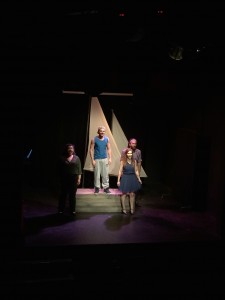 Sherry Mandujano, Scott Weston, Emily Morris and Keith Montanez
Christopher Maikish's direction is subtle yet powerful; the composer could not have asked more of a director. Each song is crafted as carefully as a one-act play and Maikish and his performers skillfully bring each one to total and rapturous completion. Heidi Buchler contributed the choreography, just the right amount at the right moments. Jim Blackett's musical direction is sublime; he and percussionist Indigo Smith at time seem like a symphony behind the singers. Miss Songs for a New World at your own peril. This viewer is ready to see it again.
The Complex East Theatre, 6468 Santa Monica Blvd. in Hollywood. Ends June 28. www.hollywoodfringe.org