Donald Margulies is a Pulitzer Prize winning playwright. I count his Collected Stories, Sight Unseen and Time Stands Still among the plays I have enjoyed seeing very much. They challenged and enlightened while creating interesting and flawed characters who grappled with great moral issues. His latest play The Country House, receiving its World Premiere at the Geffen Playhouse, does entertain at times but doesn't really challenge the audience. His characters, most of them members of a theatrical family, are self-obsessed and fashioned of clichés. You may enjoy spending some time in their company but you wouldn't want to be around them as much as Margulies expects you to be. The play needs a lot of work and a good editor; it runs way too long and constantly repeats itself. It would seem to be Margulies' attempt at writing a Chekhov like comedy but Christopher Durang beat him to it with last year's Vanya and Sonya and Masha and Spike and did it so much better.

Scott Foley and Blythe Danner
Anna Patterson is the Tony Award winning matriarch who has just opened up her house in the Berkshires as she prepares to star in Shaw's Mrs. Warren's Profession in nearby Williamstown. Her son Elliot, who seems to fail at most everything, her son-in-law Walter, a very successful Hollywood director and her college student granddaughter Susie are also in residence. They have gathered for the one-year anniversary of the death of Kathy, Anna's daughter and Walter's wife. Kathy, who was also an actress, was a vibrant force in everyone's life but she died of cancer at the age of 41. The familial ties were shaken by her death and they are further strained when Walter arrives with a surprise, his young fiancée Nell. On a whim, Anna has also invited TV celebrity and family friend Michael to stay with them while his rented house is being fumigated. The tension is dialed up when Elliot announces he's still in love with Nell with whom he shared a platonic affair years earlier in Louisville.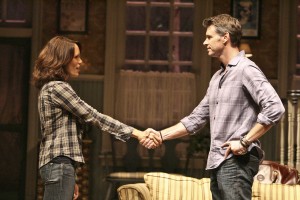 Emily Swallow and Scott Foley
Michael is a real charmer and all the ladies fall for his appeal and it makes for a very funny tableau just before the intermission arrives. There are some mild laughs throughout, mostly swipes at Hollywood product versus theatrical art. The second act has some physical violence but luckily not the violence hinted at in Elliot's first attempt at playwriting. (The main character in his play kills his mother, burns down the house and then kills himself.) The show ends with a pity party for Elliot but the character is so unlikable from the very start that he garners very little sympathy from the audience.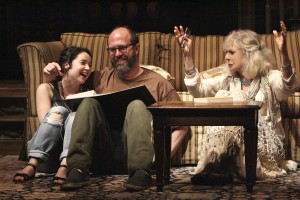 Sarah Steele, Eric Lange and Blythe Danner
all photos by Michael Lamont
Blythe Danner is incandescent but she is burdened with the clichéd role of being a neglectful mother and a lusting cougar. David Rasche makes the most of his underwritten role as the not so grieving widower. Sarah Steele and Emily Swallow provide able support as Susie and Nell. Eric Lange wallows in the shallowness of Elliot and the audience cringes whenever he appears. Scott Foley comes off best as the idealistic Michael, a successful TV star who spends his off time doing charity work in Africa and returning to the theatre. Foley makes Michael a very believable character, one you wouldn't mind spending more time with. Daniel Sullivan competently directed and John Lee Beatty provided the show's best feature, it's beautifully detailed interior of a century-old house. The Country House itself needs some major fixing up.
The Geffen Playhouse, 10866 Le Conte Ave. in Los Angeles. Ends July 13. 310-208-5454 or www.geffenplayhouse.com