Bloodsuckers rule in Hollywood and werewolves have been pushed to the back of the pack. They are even behind the zombies. An ex mental patient/writer hopes to remedy that situation when he personally delivers a script for a proposed werewolf trilogy to a high powered Hollywood agent. So begins Michael Shaw Fisher's The Werewolves of Hollywood Blvd.—A Damnable Rock Musical. It is being presented by Orgasmico Theatre Co. as part of the Hollywood Fringe Festival. Michael Teoli provides the music, arrangements and additional lyrics while also serving as Musical Director. The result is a really enjoyable rock and roll tale of horror with a comic twist.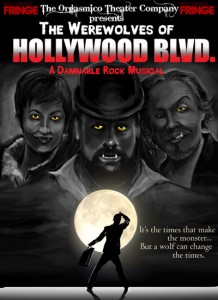 The agent, Lawson Grace (Kyle Nudo), has just been fired from his agency after a hostile takeover by J.P. Governs (Jesse Merlin) whose role model is Vlad the Impaler. As Lawson reads the script, egged on by the manic writer Bill Hopper (Jim Hanna), he is aided by three historically recorded werewolves. They each have their own tale to tell of how they came to their transformation and how they chose their victims. The stolid Germanic Peter Stump (David Haverty), the French loon Jacques Roulet (book and lyric writer Fisher) and the hauntingly tragic Joana of Tarcouca (Leigh Wulff) all shine in their numbers. Laura L. Thomas contributes sex appeal as well as fun in her roles as Lawson's co-worker Val and as his Succubus.
Director Aaron Lyons and choreographer Michelle LaVon have inventively staged some of the numbers, especially given the limited resources available to a Fringe show. Heads are tossed around during "Heads Won't Roll" and there is a chorus line of impaled dolls used in "The Corporate Strategies of Vlad the Impaler." Getting fired is staged as a pep rally complete with streamers in "The Big Fat Lay Off." Fisher has tongue planted firmly in cheek for most of the show and the judicial comments that accompany Roulet's "The Luck of the Wolf" are hilarious. There are also some lovely ballads in the score. May these Werewolves howl for a long time to come.
Lillian Theatre, 6230 Santa Monica Blvd. in Hollywood. Ends June 28. www.hollywoodfringe.org