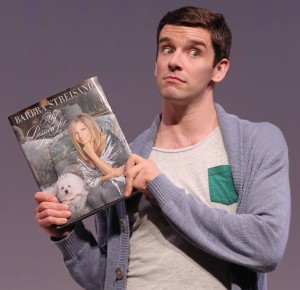 all photos by Joan Marcus
To paraphrase Sgt. Joe Friday of the old Dragnet TV show, these are the facts, Ma'am. In 2010, Barbra Streisand's first book was published. My Passion for Design was not a novel or even really a biography. Instead it featured photographs, mostly taken by Streisand herself, of the homes she had designed in Malibu and the items she has collected over the past 50 years. In it she revealed she had created a mall in the basement of her barn and stocked its various stores with her collectibles—costumes from her films and photo shoots, dolls and other antiques etc. Playwright Jonathan Tolins, best known for the drama Twilight of the Golds, has written Buyer & Cellar from that bit of information. He takes great care at the top of the intermissionless 100 minute one-man show to state it is a work of fiction. Take that you litigious superstar.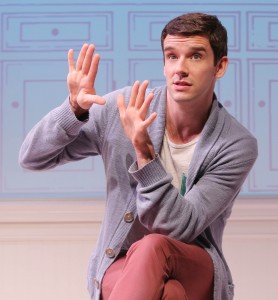 This is also a fact—you will be laughing steadily during those 100 minutes. Michael Urie gives a tour-de-force performance as all the characters, but mostly an out of work actor named Alex More and his superstar employer and sole customer. Alex had been recently fired from his job in Toon Town at the Magic Kingdom when he is offered a chance to be the sole employee at a very special mall in Malibu. After interviewing with personal assistant Sharon, he is given a Main Street type outfit to wear and shown the various stores in the mall where he will take inventory, dust and assist his solitary shopper. It is a few days before she appears and she is in a mood to bargain. Alex is forced to improvise the story of a doll she is interested in buying for $500. But Alex holds firm at a price of $850; he is eventually outfoxed by a coupon. The hilarious interaction of the customer and her employee is wonderfully detailed in Tolins' script and Urie's masterful playing of it. The customer visits more often and soon a bond seems to be forming and when she discovers Alex is not only gay but an actor, the sky is the limit.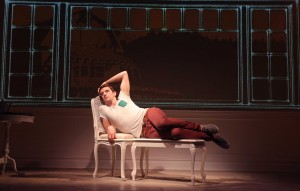 Tolins muses on the loneliness of superstardom, of the passion that drives one to overcome their past, of gays and their divas. There are so many wonderful bits of Streisand lore ridiculed here, the plot of The Mirror Has Two Faces for example. This viewer's favorite is the still looming possibility of a new film version of Gypsy with the 70 plus star as "Grandma" Rose and the modernization of the script to include in vitro fertilization to explain her five year old daughter. At the top of the show, Alex explains he doesn't' "do" Streisand and he really does not. A flip of the hair, an extension of those fingernails, the hint of a Brooklyn accent give the essence of the star. Stephen Brackett's direction is unobtrusive. There is one small quibble about this otherwise exemplary night of theatre. Urie's delivery, especially when playing Streisand, is a bit under projected at times and he can not be heard by everyone. It's a shame to miss a single delicious word of this confection.
Mark Taper Forum, L.A. Music Center in Los Angeles. Ends August 17. 213-62-2772 or centertheatregroup.org