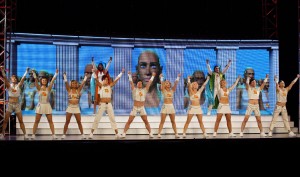 The GaGa Kids (all photos by Paul Kolnik)
Jukebox musicals are not known for their books but We Will Rock You has sunk to new depths. Story and script are credited to Ben Elton who is also listed as director. A better result may have come from locking a chimpanzee in a room with a word processor. The time is the future when megacorporation Globalsoft and the Gaga Entertainment Empire have taken over the iPlanet. Everyone is connected to the Internet and everyone is the same. Except for Killer Queen (Jacqueline B. Arnold channeling Mad Max Beyond Thunderdome's Tina Turner) and her main henchman Khashoggie (P.J. Griffith in his shades and designer wardrobe). I guess if you make the rules you don't have to fit in. The ultimate crime is individuality or anti-social-media behavior. Rock music is forbidden and a rebel group of Bohemians await The Dreamer to revive them in the ruins of the Hard Rock Café in Las Vegas.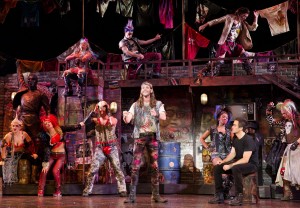 The Bohemians
To continue with the plot, two misfits meet in lockdown, break out and go on the run. Galileo Figaro (Brian Justin Crum) has dreams and hears things in his head like "yellow submarine" and "blue suede shoes" but has no idea what they mean. His companion, whom he names Scaramouche (Ruby Lewis), refuses to wear pastels like the other GaGa Kids. They meet up with Oz (Erica Peck) and Brit (Jared Zirilli) and are soon on the road to Graceland to find the King's buried guitar. The Bohemians name themselves after long dead rock icons whose names they have discovered in bits of magazines and posters which have survived. Evidently they didn't provide a clue to the rock star's sex.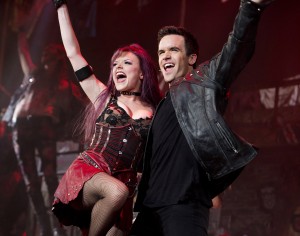 Ruby Lewis and Brian Justin Crum
There were so many times I wanted to channel my inner Helen Sinclair, Woody Allen's diva from Bullets Over Broadway, and just admonish the cast to "Don't speak." If ever a show cried out to be just a full out rock concert, it's this one featuring the music of Queen. The eight-person band, led by Musical Director Nate Patten, is placed way above the stage and they really rock the joint. Bobby Aitken's sound design can be felt in the depth of your bowels while Willie Williams' lighting design alternately mesmerizes and blinds you. The cast is filled with amazing rock quality voices; you just wish they wouldn't waste them on dialogue. Crum gives a very good reading of Freddie Mercury and really nails his numbers. Lewis, Peck, Zirilli and Arnold all have stellar moments. You wish they weren't tied to a script or hampered by the inept direction of Elton. He stages three consecutive numbers with a duo of performers sitting, standing and jumping around on a pile of oil drums. Three consecutive numbers!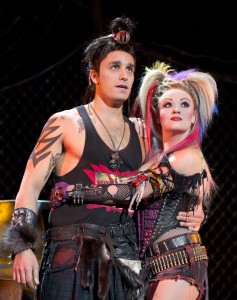 Jared Zirilli and Erica Peck
The audience was given mini glow sticks as they entered the theatre and the energy was high for the first number or two, with glow sticks held high in waving hands. But as the plot thickened the energy drained out of the audience and the glow sticks dwindled until only a few diehards continued waving them. However the show ends with great energy—the title song "We Will Rock You" followed by the anthem "We Are The Champions." And after titillating the audience for over two and a half hours with snippets of lyrics from "Bohemian Rhapsody" used as dialogue, the cast finally performs the number after the curtain call. Each of the leads takes a portion of the number and really wails with it. Those last three numbers are almost worth all that came before. Almost.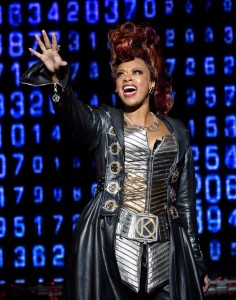 Jacqueline B. Arnold
Ahmanson Theatre, Music Center in Los Angeles. Ends August 24. 213-628-2772 or www.centertheatregroup.org