Who would ever think William Shakespeare and the Bee Gees would be a good mix? Matt Walker and his zany companions in the Troubadour Theater Company, that's who. The Troubies have taken Shakespeare's comedy of mismatched lovers and mischief making faeries, added their own insane brand of improv along with the classic Bee Gees' film soundtrack and created the uproarious mayhem entitled A Midsummer Saturday Night's Fever Dream, currently on stage at the Laguna Playhouse through August 31.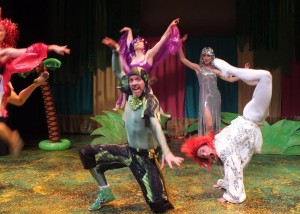 (photos by Chelsea Sutton)
Once again director Walker and his merry troupe manage to get most of Shakespeare's plot into the proceedings while wildly adlibbing and getting down to some serious disco dancing in under two hours. You don't want to arrive late to the show, as did seemingly a third of the audience at the matinee I viewed. You will be mercilessly castigated for your tardiness and deservedly so. You don't want to miss a second of the fun and the music here. The four-piece onstage band is superb under the musical direction of percussionist Eric Heinly. They will definitely have you on your feet dancing at some point. All the songs you gyrated to in your youth are here, from "Night Fever" to "Jive Talkin'," with some familiar and some unfamiliar lyrics. The use of "More Than a Woman" is inspired lunacy.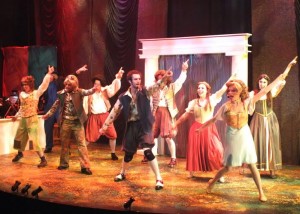 The cast of 14 Troubies prove to be triple threats with their comic timing, singing and dancing. Walker leads the action as the sprite Puck as well as Peter Quince, head of the Mechanicals. The short second act is taken up with a really hilarious version of Pyramus and Thisbee as you have never seen it with Rick Batalla's Bottom and Rob Nagle's Flute playing the doomed lovers. Morgan Rusler does double duty as Theseus/Oberon playing opposite leggy Suzanne Jolie Narbonne as Hippolyta and sensual Monica Schneider as Titania. Katherine Donahoe, Tyler King, Beth Kennedy and Joseph Leo Bwarie pair up and pair off and pair up again as the young lovers lost when they venture "into the woods." Costume designer Sharon McGunigle gets special kudos for her disco duds and faerie finery. What Matt Walker does with his on backwards lion costume is not for the eyes of little children but the adults sure enjoyed his humongous tail.
Laguna Playhouse, 606 Laguna Canyon in Laguna Beach. Ends August 31. www.lagunaplayhouse.com