It has been well over ten years since I last saw the Troubadour Theater Company and their patented madcap musical takes on the classics. Either the Troubies, as their many fans call them, have worked their way through all of Shakespeare's canon, or else they just couldn't resist introducing the Swedish pop group Abba to Greek Tragedy with Abbamemnon which played a short weekend run in La Mirada. A good bit of Aeschylus' tale of the House of Atreus, complete with cannibalism, adultery, horrific prophecies and sacrifices to the gods and matricide, gets told straight out in a fast-paced 90-minute laugh riot. Matt Walker's direction is sublime as is the musical direction of Eric Heinly. The Troubies are all triple threat performers—they can do the heavy lifting of the drama, bring the laughs with their improv skills as well as sing and dance up a frenzy.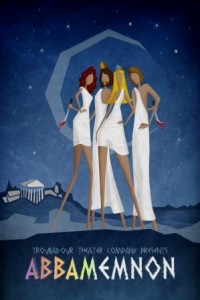 The Abba songs, everything from "Dancing Queen" to "Waterloo," have had their lyrics reworked to tell the tale and bring on the laughs. Walker himself took on the title role and though Rick Batalla as Aegisthus had a blast improvising when a woman in the front row walked out during one of his speeches and Joseph Keane did some great physical comedy as Harold the Herald, delivering news of the Trojan War while impaled on a spear, this show really belonged to the women. Monica Schneider made a very imposing and imperious Clytemestra and Beth Kennedy was a stitch as the Watchman, but it was Katherine Donahoe's Cassandra that really captured your attention with her star quality.
Next up for the Troubies—Shakespeare meets the Bee Gees in A Midsummer Saturday Night's Fever Dream at the Laguna Playhouse August 26-31.