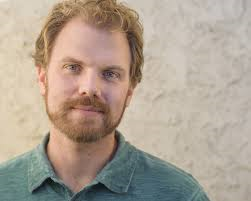 After many years as one of Southern California's leading musical theatre performers and one of LA's most sought after voice teachers, Dan Callaway is returning to his home state of North Carolina to join the faculty at Elon University. His farewell concert at Sterling's Upstairs at the Federal on Sunday, August 17 was filled with friends, fans and well-wishers. He proved to be in great voice, showing an amazing range as he sang country/western, Broadway, rock and bluegrass.
He started the evening with three songs by James Taylor, from the upbeat "Smiling Face" to the heartbreaking "Millworker." He showed he had a sense of humor with his Inappropriate Style Medley which contained "Total Eclipse of the Heart," "Funkytown" and "Don't Stop Believing" among others. He said he concocted the medley after countless auditions for rock musicals in which he was never given a song from a rock musical to sing.
His musical theatre roots were amply displayed with "Marry Me A Little," a song originally cut from Stephen Sondheim's Company and with "A Bit of Earth," from The Secret Garden. He ended the concert with some bluegrass hymn-like tunes—"In the Palm of Your Hand," and "There is a Reason." He had great accompaniment from musical director/pianist Bobby Apperson. Also backing him up were Chris Novicki, his landlord, on drums and the amazing Korey Simeone who was magical on guitar, dobro and especially the violin.
The highlight came early in the evening when he did a heartfelt and deeply moving rendition of "Finishing the Hat" from Sondheim's Sunday in the Park with George. He said it was a song first given to him by his high school voice teacher. He said he had no idea what it meant when he originally sang it. Mr. Callaway, you definitely proved you know what every word of the song means now. Best wishes to you as you embark on the new phase of your life. You will be missed on local stages.
Upcoming at Sterling's Upstairs at the Federal is the Kritzerland Records Four Year Anniversary show on September 7 as well as David Burnham and Valeri Perri on September 21 and Gary Lynn Floyd on September 28. For more information visit www.msapr.net