Jeff Gould's play It's Just Sex at the Secret Rose Theatre is subtitled "A Comedy About Lust & Trust" and both qualities are amply displayed during the eighty-minute intermission-less romp through the landscape of modern suburban marriages. While their kids are away at summer camp the adults come out to play as three long married couples gather for a night of drinking and game playing.
Host Phil (John Colella) wants to call off the evening and have his wife Joan (Reamy Hall) really confront him about the problems in their marriage. Especially since Joan arrived home early and found Phil and Amanda, The Hooker (Claudia Graf) in an undressed state about to do the act. While Phil pays off Amanda for the coitus interruptus, Joan brings out the disinfectant to wipe down the sofa. (A really nice touch.) Friend Carl (Vincent Spano) is a 24/7/365 sex machine who wants to arrive fashionably late after having sex once more with his wife Kelly (Betsy Russell). She doesn't seem to mind his constant state of arousal at all, even though she has forbidden thoughts about Phil. Also on their way are high-powered and always in control attorney Lisa (Stephanie Fredricks) and her belittled husband Greg (Andy Hirsch) who's been having problems getting it up for her.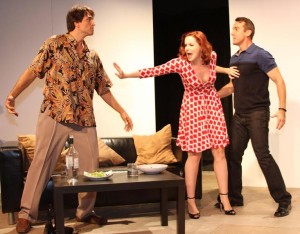 Vincent Spano, Stephanie Fredricks and John Colella
(photo by Maura McCarthy
The guests can sense the tension in the air but Joan wants to party and suggests a truth telling game involving lots of drinking. As the truths spill out and the booze goes down, these six soon lose their inhibitions and what started out as a bit of tall tale telling ends up a real confessional. The stakes are really amped up when mate swapping is suggested. After all, there are three empty bedrooms in the house. So they pair off–Kelly gets to live out her fantasy with Phil, the high libido Carl and Lisa go at it and Joan really gets a rise out of Greg. The aftermath is a bit more serious—playwright Gould has more on his mind than raucous fun and gratuitous laughter. Trusting the one you love seems to be the key to a solid relationship.
The cast is evenly matched and brings what could easily have been stereotypical roles to full bodied characterizations. Rick Shaw shows a deft hand in his direction and there isn't a wasted moment. Nothing gets overplayed or understated. The actual sex scenes are depicted as a shadow show on the three paneled set and add to the fun and heat of the moment. It's Just Sex has plenty of that but it also has a bittersweet taste of what it takes to maintain a long standing committed relationship in today's fast-paced and sensory overloaded existence.
Secret Rose Theater, 11246 Magnolia Blvd. in North Hollywood. 818-762-2272 or www.itsjustsexplay.com Ends Nov. 2.