The 48th edition of Kritzerland at Sterling's Upstairs at The Federal on August 3 saluted female lyricists as an offshoot of a Dorothy Fields' tribute earlier this year. It was by far the best Kritzerland show I have seen this year. The songs were varied–heartfelt ballads and uproarious comedy numbers, some well known, some clearly unknown. The cast was stellar and producer Bruce Kimmel's in depth and often hilarious commentary was likewise. Tom Griep provided the excellent accompaniment on piano. For the purposes of this review, I'll just mention the lyricists involved; you composers can lobby for your own show.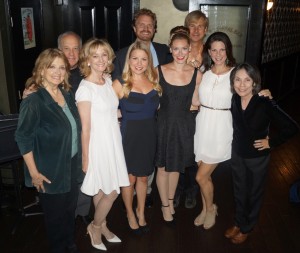 Kritzerland cast along with producers Bruce Kimmel and Adryan Russ and musical director Tom Griep.
Dan Callaway and Shannon Warne got the show off to a lively start with the title song from They're Playing Our Song, Carol Bayer Sager's only Broadway outing. The number even included a 1970s disco themed dance break. Warne displayed her vocal range and comedy chops with "The Alto's Lament," a cabaret cult favorite with lyrics by Marcy Heisler. Next Stage Star winner Jennifer Kranz made her Kritzerland debut and proved she is a real winner with her heartbreaking take on Amanda McBroom's "Ship in a Bottle." She also delivered a lovely rendition of Lynn Ahrens' "Come Down from the Tree" that was cut from the enchanting Once on This Island.
Lisa Livesay also displayed star quality as she sang Gretchen Cryer's bittersweet classic "Old Friend" from the feminist musical I'm Getting My Act Together and Taking It on the Road as well as the oft recorded but still stealth tearjerker, "Ballad of Sad Young Men" by Fran Landesman from the flop Broadway beatnik musical The Nervous Set. She also proved she has more vocal range than superstar Lucille Ball when she mashed up "Bouncing Back for More," a number cut from Ball's only Broadway show Wildcat, as well as "Hey, Look Me Over," the song that replaced it.
Special Guest for the evening was musical theatre legend Kay Cole, (A Chorus Line's original Maggie) who proved she can deliver the goods even standing still by giving jazzy renditions of "Witchcraft" and "The Best Is Yet to Come," both with lyrics by Carolyn Leigh. Leigh also contributed the lyrics to "Firefly" which Kimmel performed after informing the audience that it was written along with composer Cy Coleman as an audition song for the musical Gypsy. Dan Callaway displayed his rich, deep voice with Marsha Norman's poignant "A Little Bit of Earth" from The Secret Garden and then he closed the show with the show-stopping Lynn Ahrens' anthem "Wheels of a Dream" from Ragtime. Callaway is presenting a Farewell to LA concert on August 17 at Sterling's before he and Livesay move to NYC.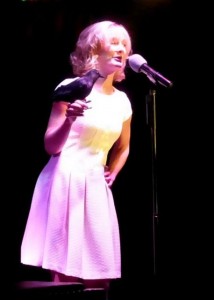 Heather Lee with feathered friend
It's been over 10 years since I last saw Heather Lee perform and her comic timing is still as precise as ever. That made her and Kimmel's "Funny" from My Favorite Year even funnier because the audience knew Ms. Lee needed no instruction on how to get a laugh. She brought down the house with her take on Peter Pan's iconic "I've Gotta Crow," performed as I Got A Crow with a taxidermied bird in hand. She would have made Norman Bates so proud. Ms. Lee, there is a warm shower waiting for you back at the motel. And speaking of showers, a majority of the audience needed a cold shower after Lee's sexy, sultry, sensuous, sizzling, scintillating "Twenty-Four Hours Of Lovin' " from Carol Hall's The Best Little Whorehouse in Texas. I'm sure her microphone needed a cigarette or two after being woman-handled during that song.