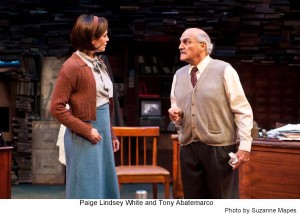 Judge Francis Biddle, a Republican patrician from Main Line Philadelphia—right out of law school he spent a year as secretary to Supreme Court Justice Oliver Wendell Holmes, later he became Franklin Roosevelt's Attorney General during World War II and Harry Truman's appointment as Chief Judge at the Nuremburg Trials of the Nazi War Criminals—was considered a traitor to his class. He became a Democrat during the Depression when he championed the rights of the Pennsylvania coal miners. These are just a few of the fascinating tidbits about the life of this extraordinary man shared by playwright Joanna McClelland Glass in her engrossing and entertaining two-hander Trying at International City Theatre in Long Beach.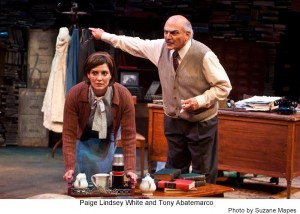 In 1967, fresh from the Canadian prairie of Saskatoon, Saskatchewan, a 25 year old Glass became the latest in a long line of secretaries to Biddle in the garage office of his D.C. home. Biddle was 81 and stated he was sure he was in the last year of his life. Indeed, he died a year later. He needed help as he dictated his memoirs and answered mountains of correspondence. Glass based Trying on her experiences during that year. It's an intriguing character study of a young but set in her ways modern female and a crotchety but well-mannered curmudgeon who had an extensive memory that was beginning to fail him along with the rest of his aging body.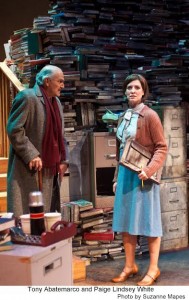 Director John Henry Davis subtly directed the play's six scenes on JR Bruce's set which features towers of slightly scorched books. Basically Davis just lets his talented cast of two do their thing. This reviewer has seen Tony Abatemarco on stage for several decades now and has never seen him give as beautifully detailed, funny and touching a performance as he turns in here. His Judge Biddle makes the most of every word and action the playwright has given him. It is a truly remarkable performance. In the less showy role of secretary Sarah, Paige Lindsey White supports with great dignity and feeling. This duo brings their characters vividly to life and makes you want to spend even more time in their presence.
International City Theatre, 300 E. Ocean Blvd. in Long Beach. 562-436-4610 or www.internationalcitytheatre.com. Ends Sept. 14.