Rogue Machine is currently presenting the Los Angeles Premiere of Mike Bartlett's 2010 Laurence Olivier Award-winning play Cock. As the tagline states—it has nothing to do with battling poultry. Instead it is about a triangle between an older man, a divorced woman and the young man they both love and who says he loves them both.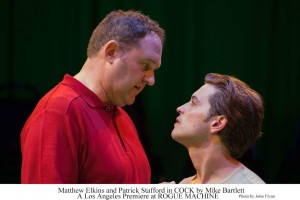 John (Patrick Stafford) is a cipher, a nonentity. As a youngster he had problems deciding which voice to use. He still can't buy his own clothes and he can't seem to make a decision if his life depended on it. And his future love life does depend on his decision. John has been in a gay relationship with M (Matthew Elkins) for seven years. It would seem to be a dominant/submissive relationship as M is often verbally abusive to John. Finally John leaves the relationship and within a week meets the bold, self-assured W (Rebecca Mozo). Their initial mutual attraction leads to John's first exploration of heterosexual lovemaking. He is amazed by it but still feels a strong love for M. He confesses his affair to M but lies and says W is very mannish. He then foolishly arranges to have M invite W to dinner, promising each he will tell the other he is choosing them. M has invited his supportive father (Gregory Itzin) for backup against the supposedly mannish W and the resulting dinner is a revelation for all involved.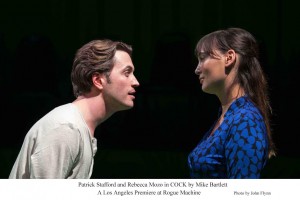 Bartlett's writing is very true to the way people really talk and act in this type of push and pull relationship. The quartet of actors is superb, especially Stafford who shoulders most of the heavy lifting even though his character seems to have no spine. Cameron Watson's stylistic direction keeps the momentum flowing briskly in this 90-minute intermission-less work. His actors seem to be constantly in motion–parrying, feinting and thrusting at one another. Stephen Gifford's circular pit of a playing space perfectly creates the ambience of a cockfight, only with humans rather than roosters. The one failing of the production is a lack of believable feeling between John and W although the characters constantly profess their love for each other. There seem to be real feelings between John and W and between M and his dad, but the central relationship is colorless. Without that heat, it's difficult to work up any enthusiasm about John's final decision. If he even makes one, that is.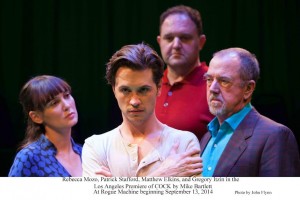 Rogue Machine, 5041 W. Pico Blvd. in Los Angeles. Ends November 3. 855-585-5185 or www.roguemachinetheatre.com