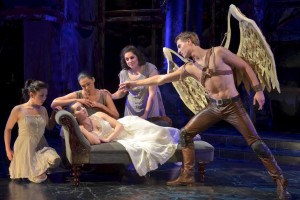 Photos by Barry Weiss
The Greek word psyche means both soul and butterfly, but Psyche: A Modern Rock Opera is not pretty and does not fly nor is it a balm for the soul. This extravagantly over-produced work, with book, music and lyrics by Cindy Shapiro, is at times a feast for the eyes but murder on the ears. Shapiro's music has the same percussive beat throughout the two hour ordeal. Jack Wall's musical direction of the 16 member orchestra, especially the string section, gives it a symphonic sound at times but to no avail. Shapiro evidently is from the school that professes "if a lyric line is worth singing once, it's worth repeating again and again and yet again." The lyrics are not much help in deciphering the ancient Greek tale of Psyche and Eros so the audience is reduced to reading the snarky supertitles to try to get an idea of who, what, where and why. Evidently the snarky attitude in this story of the original princess and her trials and tribulations in finding true love is what makes this rock opera modern.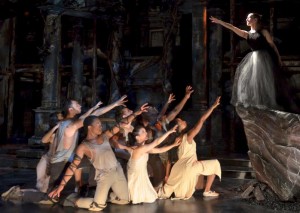 For those unfamiliar with the tale of Psyche, think Beauty and the Beast combined with Cinderella, Snow White and most other fairy tale princesses. Eros is the unknown beast because he keeps his face hidden from his lover but he does manage to impregnate her. His jealous mother/lover Aphrodite is the most evil of mother-in-laws. Psyche also has two older sisters who are jealous of the wealth and the young stud she has managed to snare. Their evil machinations separate the star-crossed lovers for a while. Psyche has a list of chores to accomplish to prove she is a worthy mate for Eros. She is finally rewarded by Zeus, given ambrosia to drink, made one of the gods and gives birth to a baby she names Bliss.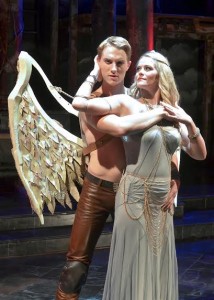 Laura L. Thomas as Aphrodite and Michael Starr as her son/lover Eros
There was evidently a lot of money spent on this production but no amount could make Shapiro's opus palatable. Even Julie Taymor would be daunted by this material. Michael Matthews seems to have inherited the mantle of the late great director Ron Link. Link had the genius to make the dullest brass of a play shine so brightly the audience thought it was seeing pure gold. Matthews' staging here is amazing. If only he had better material on which to work his magic. He is greatly aided by Stephen Gifford's stately scenic design and Tim Swiss' moody lighting. E.B. Brooks contributed the evocative costumes and Cricket Myers' sound design overwhelms in the small theatre. Whitney Kirk's Aerial Direction is an added plus.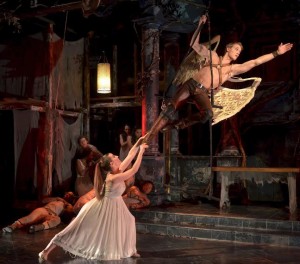 Ashley Ruth Jones as Psyche and Michael Starr as Eros
The cast is competent but hindered by the repetitive nature of the lyrics. In the leading role of Psyche, Ashley Ruth Jones deserves a medal for going above and beyond for the cause. The winged but bare chested Michael Starr makes an appropriate God of Love. As Aphrodite, Laura L. Thomas' soprano has a tendency to sharpness and her ear-splitting notes often become uncomfortable. Janet Roston has provided some lively choreography for the ensemble but her second act staging for Aphrodite and her minions, Trouble and Sorrow, are trite and over the top. Perhaps that was the intention of the whole endeavor.
Greenway Court Theatre, 544 N. Fairfax Ave. in Hollywood. Ends Sept. 28. www.psycherockopera.com