Pure theatrical magic is happening on the stage of the Rosenthal Theater at Inner City Arts in downtown Los Angeles. That magic comes courtesy of the concept Michael Arden and Andy Mientus have for the musical Spring Awakening, produced by Deaf West Theatre in association with The Forest of Arden. The cast is comprised of nine deaf cast members and 15 speaking actors, some of whom sing and speak for their deaf counterparts, in addition to playing in the band. It might seem complicated but under Arden's delicate, deft and inspired direction it all blends together for a beautiful evening of sobering drama and incandescent enchantment.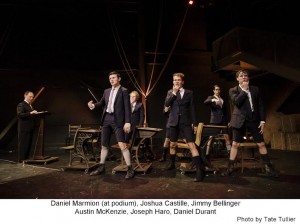 Spring Awakening won eight Tony Awards for its 2006 Broadway production, including Best Musical and Best Score for Duncan Sheik and Steven Sater. It also made stars out of Lea Michele and Jonathan Groff. Sater's book closely followed the plot of Frank Wedekind's controversial German play about the sexual awakenings of a group of teenagers in a provincial town. Although written in 1891 the play was not produced until 1906 because of its plot featuring teenage pregnancy, incest, abuse, suicide and homosexuality. Unfortunately these are still hot button issues in many parts of our country today. Sheik, Sater and original director Michael Mayer had the jarring notion of playing the scenes in period but doing the musical numbers as if at a rock concert with the performers using hand mics. I had never seen a production before the current one and I think Arden's concept makes the work all of a piece. There are some rock-out numbers in the score including "Totally Fucked," but there are some really lovely ballads such as "Mamma Who Bore Me."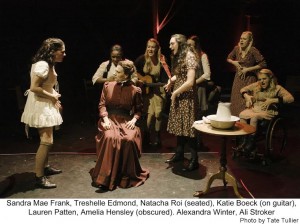 The cast is onstage in modern dress, laughing and talking with each other as the audience enters. As the audience settles in, the cast begins to change into their 1891 German schoolboy and girl costumes by Christopher Scott Murillo. The cast wears head mics and Philip G. Allen's sound design perfectly blends the 10-piece onstage band in with the voices. The deaf actors and their corresponding speaking/singing actors mesh seamlessly. It's a mesmerizing effect to experience this finely tuned ensemble tell this heartbreaking tale of youth in the first blush of their sexual awakenings.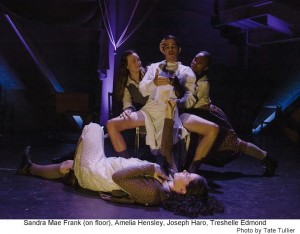 Austin McKenzie as Melchior is the glue that holds the show together. He's a sensitive but rebellious young man who has lost his faith in God and is quickly losing faith in his elders. Daniel N. Durant and Rustin Cole Sailors create a deeply troubled Moritz who is badgered by his teachers until failure is the only outcome. Sandra Mae Frank and Katie Boeck pair to craft a confused and questioning Wendla, a girl who can't feel anything, even pain. With a mother who still expects her to believe in storks when her young body tells her differently, her quest can only engender tragedy. This trio is the main focus of the story but there are other standouts in the cast. As Ilse, Lauren Patten delivers a beautiful "Blue Wind." Joseph Haro as the gay Hanschen leads the cast in "My Junk" and does a lovely duet with Joshua Castille/Daniel David Stewart on "The World of Your Body." Treshelle Edmond/Kathryn Gallagher unflinchingly play the abused incest victim Martha. Troy Kotsur, Daniel Marmion and Natacha Roi lend great support in all the adult roles.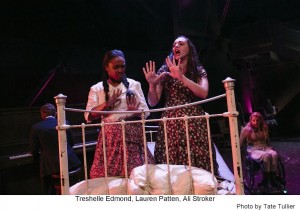 Murillo also designed the bare bones set that easily transforms to many locales. He is aided immensely by Brent Stewart's projection design which often simultaneously flashes dialogue being spoken or signed. Jared Stein's musical direction is the tops and Simon Hale contributed the string orchestrations. It's a truly haunting score when heard like it is here. Spencer Liff's energetic choreography is an added plus. Travis Hagenbuch's stellar lighting design is a key element. As staged by director Arden, the show's ending, indeed the entire show, is transporting. Miss it at your own peril. This production will stay with me, and with you if you are lucky enough to experience it, for a long time to come.
Rosenthal Theater at Inner City Arts, 720 Kohler St. in Los Angeles. Ends Nov. 9. 818-762-2998 or www.deafwest.org