Musical Theatre Guild has been doing what it does, and doing it very well, for nearly 20 years now. They present rarely seen musicals in a staged concert format. With a maximum of 29 hours of rehearsal time permitted for each production, the cast has scripts in hand for their one-night only performance. And with the roster of talent that comprises MTG's membership being the crème de la crème of the Southern California musical theatre scene, it is usually the best sung version you will ever hear.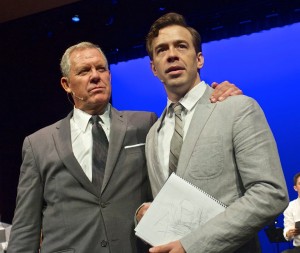 John Sloman and Zachary Ford (all photos by Alan Weston)
Such was the case on Sunday, September 14 with the Los Angeles Premiere of Sweet Smell of Success. This was the final Broadway show by Marvin Hamlisch and the jazzy score is among his best. Craig Carnelia provided the lyrics and there are some really wonderful ballads as well as uptempo dance numbers. John Guare's book closely follows the plot of the 1957 film written by Clifford Odets and Ernest Lehman. The main character, J.J. Hunsecker, was modeled on the ultra-conservative world famous gossip columnist Walter Winchell. Winchell could easily make or break a career with a mention in his daily column and so can J.J. and he revels in it. Opening in Spring 2002, the show was considered too "dark" for Broadway audiences and only ran 109 performances. I was lucky enough to see one of those performances and thought it was the best show of the season. I felt it was much better in every way than the over-rated Thoroughly Modern Millie or the satiric but unmelodic Urinetown. But I was in the minority as the show only won one of its seven Tony nominations, for the tour-de-force performance of John Lithgow, and has rarely been seen since then.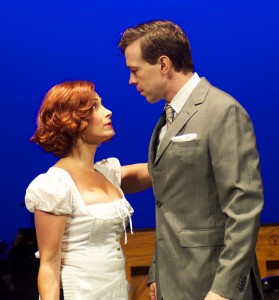 Melissa Fahn and Zachary Ford
John Sloman's portrayal of J.J. could have used some more sleazy smarminess, especially in his confrontational scenes. J.J. is a master of his public image, but the man is really a monster; obsessing over his younger sister and her love life. Ashley Fox Linton was incandescent as Susan, the sister looking for love and an escape from J.J.'s overbearing presence. Will Collyer as jazz pianist/crooner Dallas provided the love interest. Collyer's vocal on "I Cannot Hear the City" was a highlight and his duet with Linton on "Don't Know Where You Leave Off" was luscious and sensuous.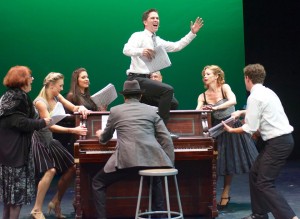 Jeffrey Scott Parsons and the chorus
Zachary Ford was a standout as Sidney Falco, a poor, aspiring hack J.J. takes under his wing in return for Sidney spying on Susan. Sidney's moral dilemma was artfully conveyed as his sleazy actions warred with his sometimes noble intentions. Ford had a powerful voice to go along with his acting chops. Melissa Fahn gave great support as his girlfriend Rita and her "Rita's Time" was a showstopper. Carol Kline added some comic relief as Madge, J.J.'s acerbic secretary. Jeffrey Scott Parsons headed the chorus of dancers in some really spirited choreography by John Todd. Musical Director Brian P. Kennedy led the on stage band through the jazz infused score. Director Calvin Remsberg moved the action along briskly and positioned his players artfully on the thrust stage of the Moss Theatre.
Next up for MTG is Triumph of Love, November 16. 818-848-6844 or www.musicaltheatreguild.com