Kritzerland Records celebrated its fourth anniversary of its monthly cabaret shows at Sterling's Upstairs at The Federal in North Hollywood on Sunday, September 7. Host Bruce Kimmel never did explain the where, why, how the songs got away but they were all beautifully captured in wonderful performances during the 90 minute show.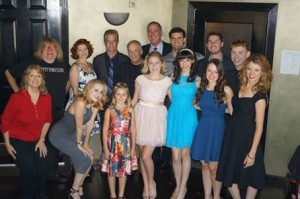 The cast along with John Boswell and Adryan Russ
A highlight of the evening was the performance of three songs from Kimmel's 2004 revue What If. The premise of the revue went something like this—what if instead of Fiddler on the Roof the songwriting team of Bock & Harnick instead wrote A Chorus Line. Then we might get an opening number like "Audition" along the lines of the familiar "Tradition." Robert Yacko did his best Herschel Bernardi impersonation leading Kimberly Hessler, Travis Leland, Bruce Merkle and Adrienne Visnic through their paces. The talented young quartet returned for the Irving Berlin Annie Get Your Gun infused West Side Story parody as well as the Menken/Ashman Beauty and the Beast take of Phantom of the Opera. From the uproarious laughter heard, and not just from this writer, it would seem a tenth anniversary production of What If should seriously be considered.
Evan Harris' manly voice filled the room with "On Your Toes" and his lovely duet of "Namely You" with his Lil Abner Daisy Mae, Madison Claire Parks, was a real winner. Parks returned later and her soaring soprano lifted the pairing of "Somebody Somewhere" and "My Heart Is So Full of You" from The Most Happy Fella to the heavens. Teenage sensation Sami Staitman did a winningly bouncy job with "How Lovely to be a Woman" and "One Boy," harkening back to the more innocent teenager first seen on stage in Bye Bye Birdie rather than cinema's sexiest teenager ever, Ann-Margret. Guest Star Bruce Vilanch had the audience in stitches with his patented blend of comic shtick, skewering everyone from Totie Fields to Siamese Twins. He also sang "Be a Phony," a song cut from the original score of I Had A Ball because star Buddy Hackett could not hack it.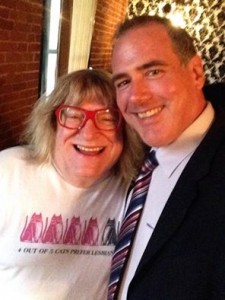 Bruce Vilanch and John Boswell
Musical Director John Boswell provided excellent accompaniment throughout the show and got to shine in his own "Boswell Overture," where he instantaneously created a Broadway overture from ten song titles shouted out from the audience. It was a hoot to watch ten-year old Hadley Miller channel her inner Ethel Merman to school the 66 year old Kimmel on the vagaries of love in "You're Just in Love" from Call Me Madam. Jenna Lea Rosen belted out "You There in the Back Row" and teamed up with her best pal Sami Staitman for a fun rendition of Kimmel's "Pals."
The second Guest Star of the evening, Kerry O'Malley, is a recent discovery for this reviewer and she is an awesome talent. She quite possibly delivered the most impassioned and best ever rendition of "Knowing When to Leave" from Promises Promises. My hands were sore from applauding. Then she returned to give me more blisters with her smoking hot torch version of Irving Berlin's "Love, You Didn't Do Right By Me." Robert Yacko's deep sonorous tone made "Joey, Joey, Joey" from The Most Happy Fella another smoking hot torch song. Then he later stopped the show dead with his powerful "Finishing the Hat" from Sunday In the Park with George. I saw Mr. Yacko introduce that song and show to the Los Angeles area in September, 1986 and have seen him in many more musical theatre roles over the past 28 years. He always had a fine voice but it has deepened and grown richer with the years as has his acting chops. He left me with moist eyes and gooseflesh. It was a performance to cherish and remember in an evening full of wonderful performances.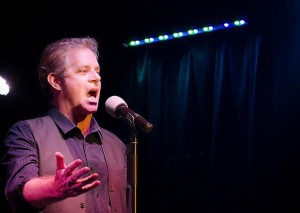 Robert Yacko
The next Kritzerland will be a Golden Anniversary (50th show) on October 5. Also on the Sterling's calendar David Burnham and Valerie Perri team up on September 21. Gary Lynn Floyd appears September 28 while Disney's Scott Damian & Co. perform September 29. Further info at www.msapr.net.