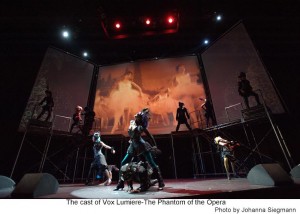 Vox Lumiere's The Phantom of the Opera at the Los Angeles Theatre Center is billed as "an explosive mash-up of music, dance, technology and silent film." Well it sure looks mashed up with the 1925 silent film starring Lon Chaney the clear winner. The music and lyrics by Kevin Saunders Hayes are mostly unintelligible, which is a blessing considering what banal lyrics you do manage to understand. Even though only three musicians are credited in the program, the music is blasted out at the audience and sounds like the same repetitive technologically synthesized sound time after time. Think Andrew Lloyd Webber on steroids. Natalie Willes' choreography is frenetic but often just looks unbalanced as performed by the seven dancers, who pose more than strut. Hayes' direction consists mostly of having his cast constantly go up and down stairs.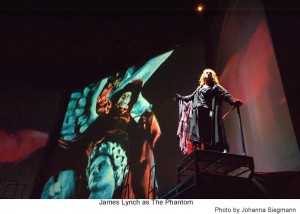 James Lynch as The Phantom is the most distinct singer, closely followed by D. Valentine's Raoul. You just wish they were given something interesting to sing. Julie Brody as the diva Carlotta and Marisa Johnson as Christine (On Stage) and Victoria Levy as Christine (Off Stage) basically just seem to run notes up and down the scales in their numbers. I could not discern a single word they screeched. A group of friends/groupies in the audience hooted, cheered and applauded every snippet of sound. Free wine and ale was served beforehand. Sharell Martin's costume design is described as "steampunk." Think Cirque du Soleil gone Goth. William Kirkham's lighting design was striking but also blinding at times.
As for this reviewer, half way through the 90-minute intermission-less evening (which started 15 minutes late) I just tuned out the mashing up and concentrated on the silent film being projected on a giant screen above most of the mayhem. I had never seen this classic film in its entirety and it really is an amazing feat for 1925 Hollywood. Massive sets and a massive cast, color sequences, a truly frightening makeup job on Chaney and inspired direction by Rupert Julian. As a piece of theatre, the movie is really good. It's a very noisy way to watch a silent film and with tickets costing $40 to $75 it's a very expensive way.
Los Angeles Theatre Center, 514 S. Spring St. in Los Angeles. Oct. 10-11, Nov. 21-22 & Dec. 12-13. 844-VOX-ROCK or www.voxlumiere.com