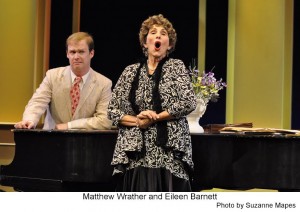 Florence Foster Jenkins was a musical phenomenon and sensation as well as a curiosity in the early part of the 20th century. She determined from an early age to be an opera singer. When her wealthy father refused to pay for lessons, she eloped with a doctor for a short lived marriage. When her father died and left her a hefty inheritance, she began her career in earnest. She only sang a few times a year and only before audiences that had to interview with her before being allowed to buy a ticket. She mostly sang for clubwomen and held a yearly recital at the Ritz-Carlton Ballroom in New York City. She often appeared in outrageous costumes that she designed for herself. Even though the audiences were screened in advance, she often engendered laughter during her performances. The fact was she could not sing very well. She lacked rhythm, pitch and tone and her pronunciation of the foreign language arias was aberrant. But she thought she was great and she surrounded herself with friends and supporters who felt likewise and always referred to her as Madame.
All of this and more is chronicled in Peter Quilter's comedy Glorious!, receiving a strong production at ICT in Long Beach under Richard Israel's deft direction. Quilter has condensed Jenkins' life and career into a few months in 1944. The first scene has her auditioning a new pianist because her former accompanist had been passing gas too loudly and often drowning out her singing. The character of Cosme McMoon seems a bit too modern with his smarmy asides and his fairly out there gayness for the period. But Matthew Wrather has a winning way about him. Good support is given by Leland Crooke as St. Claire, Madame's lover and manager. Janellen Steininger generates laughs as best friend Dorothy, sort of an Ethel to Madame's Lucy, although she is saddled with a silly shaggy dog subplot. Carol Abney has the unfortunate task of playing Maria, Madame's Mexican maid. Their exchanges are right out of a 1940s politically incorrect radio sketch which might have been the intent of the playwright. His writing is suspect in many ways but he has created a colorful and eccentric central character that proves truth is stranger than fiction.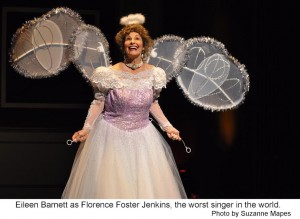 Luckily ICT and director Israel chose the multi-talented Eileen Barnett for the role. She delivers an exquisite performance. She nails every comic bit to the floor because she does it so naturally. She wears the outrageous costumes (by Kim DeShazo) as if they were her every day attire. And this beautifully voiced singer sings off key so well you can't help but smile, laugh and applaud as Jenkins' real audiences must have done. Brava Diva! The show ends with Jenkins' sold out Carnegie Hall performance in October, 1944. The 76-year old diva died a month later. Her recordings live on in case you want to hear that voice. But you will be better entertained seeing Ms. Barnett bring her to life on stage. Glorious! Indeed!
International City Theatre, 300 E. Ocean Blvd. in Long Beach. Ends Nov. 2. 562-436-4610 or www.internationalcitytheatre.com.