Kritzerland Records, host Bruce Kimmel and co-producer Adryan Russ celebrated their 50th monthly show at Sterling's Upstairs at the Federal on Sunday, October 5. It was a tuneful, fun-filled night even if there wasn't any cake with golden frosting (there were chocolate chip cookies). There were also lots of Kritzies, Kimmel's spoof of the recently announced and extremely prolific Scenie Awards of which he was probably the only non-recipient who had anything to do with Southern California Theatre in the past 12 months.
The evening got off to a magical start with the emerald gown bedecked young Jenna Lea Rosen belting out "The Wizard and I" from Wicked. Rosen returned later in a blood red dress to sing the title song from Carrie, a musical finally destined to make it's L.A. area premiere next Spring. Teenage belter alert–were the producers in the house? Young Sami Staitman once again displayed her belting chops with Kimmel's "Annie". Staitman also displayed a softer side with Stephen Schwartz's plaintive "Lion Tamer." Staitman's younger sister Sarah completed the trio of talented teens when she performed "Blue" from the 1977 animated film Raggedy Ann & Andy: A Musical Adventure.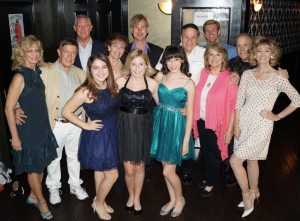 photos by Karen Staitman
There were talented adults involved in the show also. In the evening's only "put together," John Sloman sang two very different songs from Subways Are for Sleeping, including the delightful "Comes Once in a Lifetime." Sloman returned later in the show to reprise "Don't Look Now" from the musical Sweet Smell of Success, a role he played in Musical Theatre Guild's recent staged reading. He was especially poignant in "Suddenly There's You," a song cut from Ballroom. Heather Lee reprised her classic and very original comic take on Peter Pan's "I Gotta Crow" from a Kritzerland show a few months back. She later simmered and stewed her way through "I Don't Say Anything" from the soon to be revived musical Inside Out. She also teamed up with Sandy Bainum for the very funny "The Grass Is Always Greener" from Woman of the Year. Bainum just finished recording an album of Bruce Kimmel penned songs. She lent her lovely voice to "The Lights and the Smiles" from The First Nudie Musical. This viewer was really hoping for a return of the Dancing Dildos from that cult film. Bainum closed with "Two Roads," a song recently written by Kimmel with the legendary Richard Sherman. The songwriters joined Bainum onstage for a kazoo trio interlude. You had to be there.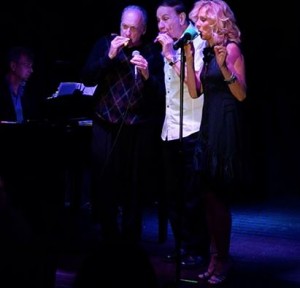 Brent Schindele displayed his virtuosity in a trio of numbers. He first essayed Fred Astaire in the "lost" Irving Berlin number 'How Can I Change My Luck?" He later disco danced his way through Kimmel's "Born Too Late" by name dropping nearly every Seventies disco song title. He then accompanied himself on piano as he sang the beautiful "Mama, A Rainbow" from Minnie's Boys, a stage musical about the Marx Brothers. Tom Griep provided great musical accompaniment for the rest of the cast but Guest Star Andrea Marcovicci brought along her personal pianist, Shelley Markham. Together the two of them boogie woogied their way through Frank Loesser's "Hamlet" from the 1949 film Red, Hot and Blue. Marcovicci did a great job channeling the spirit and vivacity of the late, great Betty Hutton.
On November 2, Kritzerland will salute composer Jerry Herman with singers David Engel and Karen Morrow among others. Sterling's Upstairs at the Federal, 5303 Lankershim Blvd. in North Hollywood. 213-754-8700.