On October 9, Rockwell Table and Stage presented the World Premiere of Los Feliz 90027. The show is the brainchild of writer/director Jake Wilson who created the musical web series The Battery's Down and other viral videos. His latest creation attempts to meld live performances in the cabaret room with pre-taped scenes shown on a screen just off the stage. It is billed as "an experimental format that could be described as live episodic entertainment." It's meant to be a love letter/spoof to soapy dramas like TV's Nashville as it follows the over-the-top lives of the staff of Rockwell restaurant and bar who are aspiring actors, musicians and porn stars. The room was filled with eager "test animals" on opening night and they whooped and hollered at appropriate and inappropriate moments.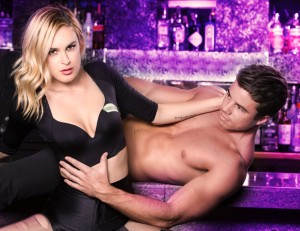 Rumer Willis and David Hull (photo by Elliot London)
It's really difficult to judge a 45 minute show featuring a cast of 14 principal roles and 18 guest starring roles. The pre-taped segments came off much better than the live performances. Wilson staged his action throughout the restaurant and the sightlines had to be terrible from nearly every table in the packed room. The house lights would come up for these bits and blind the audience at times. The story is very episodic and you barely get introduced to the all the various characters and their plot lines before the show ends. And I understand it needed to end on a cliffhanger (there are four more promised episodes, unspooling monthly through February) but this one came out of nowhere. Two of the main characters kiss and though he was definitely mooning after her she showed very little interest in him. She actually got out of bed with her live-in boyfriend to deliver the kiss. Soaps, who needs logic?
Adam Wachter provided original songs to the music of Brandy, Mandy Moore, Frank Ocean and Justin Timberlake but Corbin Reid as Jade, the diva everyone is raving about, displayed attitude but not much of a voice. Leading man David Hull has a nice easy charm about him and a pleasant singing voice until it would stray into falsetto and then it wasn't as pleasant. Leading lady Rumer Willis possesses a natural charisma and simmering sensuality. They seem to have good chemistry but you just wish they had better material to work with.

Los Feliz 90027 will play on a Thursday and a Sunday night once a month through February 15 at Rockwell Table and Stage, 1714 N. Vermont. In Hollywood. 323-669-1550 ext. 20 or www.rockwell-la.com. The episode will also be available for viewing online a week or so after the live performance. Your choice which way to follow this experiment if you are so inclined.