The Mark Taper Forum is currently presenting the World Premiere of Marjorie Prime, a very interesting and thought provoking play by Jordan Harrison. The play is also very thin and at times bland and unexciting. Luckily it's only 80 minutes in length with no intermission. Yet it does make you think a bit if you let yourself into its mellow world.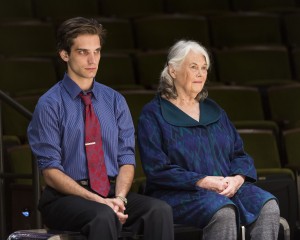 Jeff Ward and Lois Smith (photos by Craig Schwartz)
The time is the not so near future. No date is noted in the program or given in the dialogue and the costumes by Ilona Somogyi and the set design by Mimi Lien are very generic and period free. But my long career in accounting calculated that since Marjorie was born in 1977 and is age 85 at the play's start, the year must be 2062. Marjorie (the wonderful and bubbly Lois Smith) is currently living in a pristine senior community. You soon discover that her young male companion is a computer generated facsimile of her long dead husband, Walter (the charming Jeff Ward), referred to as a Prime. He is not as Walter was when he died but as Marjorie remembers him from their courting days. Her uptight daughter Tess (Lisa Emery) is not happy with her "young dad" or the memories her ever helpful husband Jon (Frank Wood) keeps feeding into the computer program. But the "new" Walter does seem to be helping Marjorie remember to eat more regularly as well as just remember.


Lisa Emery, Lois Smith and Frank Wood
Marjorie dies before Tess really comes to grips with their family problems so she gets her own Prime of Marjorie to continue to sort out their troubled past. Then Tess dies suddenly and Jon gets a Prime of her. The final scene is the play's best. The three Primes are sitting around like a real family, sharing the memories which have been programmed into them. Of course none of them remembers the same thing the same way because of how they were told tales by different people. It just proves that memory is subjective. We all remember in different ways, even experiences we shared we see from a different perspective. It's an interesting if very slight premise for a major play. The cast is exemplary and Les Waters' direction is invisible. Everyone, even the computer generated Primes, talk and act like normal people would.
Mark Taper Forum in the Music Center in Los Angeles. Ends Oct. 19. 213-628-2772 or www.centertheatregroup.org