It seems writer Richard Hochberg has spent too many hours in a darkened theatre being frightened by the likes of Friday the 13th's Jason Voorhees, Stephen King's Carrie White, Alfred Hitchcock's Norman Bates, Nightmare on Elm Street's Freddy Krueger, as well as the denizens of the Scream and Halloween film franchises. I believe his intent in writing Scary Musical The Musical was not so much to scare you or make you quake in fear but rather to tickle your funny bone and make you shake with laughter. He succeeds brilliantly, spoofing just about everything you remember and even things you don't remember from those films.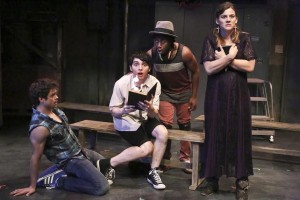 (all photos by Michael Lamont)
Most of the action takes place at Vera Miles High School where the students are all dying to be in the latest school musical being cast by drama teacher Mr. MacGuffin (Matthew Tyler). Re-casting is necessary when the leading lady Drew Cambell and her understudy Eve are both hideously murdered in an abandoned warehouse. Who would murder an understudy you ask? Who would rehearse their big musical number "Killer in the House" in a spooky warehouse? Leave logic in the lobby, just like you do when you see any horror thriller. Fun like this doesn't need to be logical.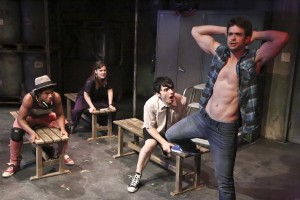 Jason Cravin (Keir Kirkegaard), Carrie Beige (Leigh Golden), Freddy Loussier (Frank Authello Andrus, Jr) and Norman Hates (August Emerson) already have parts in the show although Norman wants to audition for the female lead against newcomer Jamie Lee Leigh (Jane Papageorge). On the scene to cover the murders are local TV reporter Leeza Courtney Fox (Candi Milo) and her camerawoman Teena Louise (Jennifer Bennett). In the best horror movie tradition the body count grows as do the laughs here. I won't reveal any major plot points so you need to see this show to really enjoy it. If you tweet, you can even vote for the murderer as there are three different possible endings. Shades of Edwin Drood.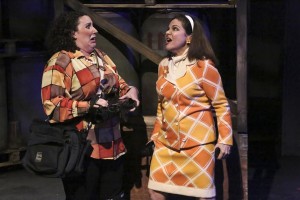 The cast is very talented and give their all under James J. Mellon's clever direction and choreography. Hochberg wrote the songs along with Michael Paternostro and you may not come out humming a song but you will get a kick out of such titles as "Bitch," "High School Can Be Murder," "We Wanna Live" and "Pain is Good." The showstopper is probably Kirkegaard's buffed rendition of "Baby Let Me Come Inside," delivered topless and full bore. He is a standout in the cast along with Emerson's creepy Norman and Papageorge's virginal Jamie. Musical director Brent Crayon leads the four-piece band and rocks the score. Desma Murphy has designed a to-die for set and Luke Moyer has provided the appropriately frightening lighting.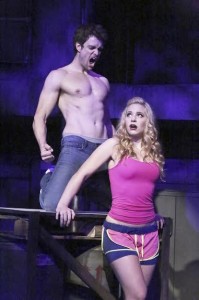 NoHo Arts Center, 11136 Magnolia Blvd. in North Hollywood. Ends Nov. 23. 818-508-7101 ext. 6 or www.nohoace.com