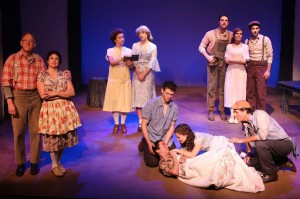 A town tableau (photos by Lindsay Schnebly)
Actors Co-Op is currently presenting Jim Leonard, Jr.'s Depression era play about misplaced faith, The Diviners, in their David Schall Theatre. The time is the early 1930s and President Hoover is still in office but not for much longer as the Great Depression gets more desperate day by day. Into the small town (population 40) of Zion, Indiana comes C.C. Showers (Clay Bunker), a former preacher from Kentucky looking to get into a new line of work. He is quickly befriended by the town oddity, 17-year old Buddy Layman (Michael Beck), and is given a job at the garage owned by Buddy's stoic father, Ferris (David Atkinson). Buddy is a "diviner," with a keen ability to discover water though he is deathly afraid of it. Buddy nearly drowned in the river when he was six; saved by his mother who lost her own life saving her son. Since then Buddy had had an unnatural fear of water, refusing to wash himself and frightened of rain storms. When a persistent case of ringworm causes Buddy to itch nonstop, C.C. tries to gently convince the boy that his fear of water is unwarranted. In a subplot the ladies of the town–Norma (Deborah Marlowe), owner of the dry goods store, Goldie (Tracy Lynn Bunka) owner of the diner and farmer's wife Luella (Maria Cominis)—are determined to get the reluctant preacher preaching again. These two forces collide with tragedy as the only outcome.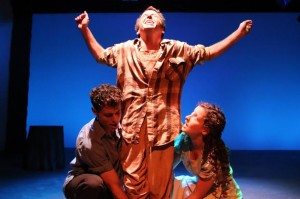 Clay Bunker, Michael Beck and Ivy Beech
Mark Henderson has plainly directed the play, there is no subtext given to the writing or the characters shown here. Leonard, Jr.'s writing is hackneyed at best and trite more than not. A different approach could have made this a more magical experience. Here it plays as too down to earth and just plain in the dirt. Leonard's simple-minded town folk seem kin to Stephen King's farmers in Children of the Corn. A few characters seem extraneous and totally unnecessary to the central plot and their homespun charm is quickly depleted by the pedestrian actors and director. Bunker as the 30-year old ex-preacher creates the most fully realized character. You never learn the reason he left the pulpit behind, but you kind of understand he just didn't have the calling. The men in his family had been preachers for generations; he just wanted something else. Ivy Beech gives a lovely performance as Buddy's 16-year old sister Jennie Mae, who acts like a mother to her older brother, but has distinctly different feelings for C.C. Their growing attraction and hesitation is believable. Beck is a bit too full of tics and mannerisms as Buddy and could tone down his performance to make it more naturalistic. David B. Marling's Sound Design and Bill E. Kickbush's lighting really enhance the production.
Actors Co-Op, 1760 N. Gower St. in Hollywood. Ends Nov. 23. 323-462-8460 or www.actorsco-op.org.