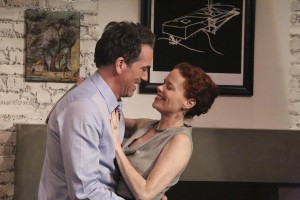 (photos by Michael Lamont)
Playwright Edward Albee has tackled many diverse themes in his plays over his long and illustrious career. Fear and paranoia in A Delicate Balance, evolution and talking lizards in Seascape, mother issues in Three Tall Women, bitter marital discord in Who's Afraid of Virginia Woolf? In The Goat or, Who Is Sylvia? the couple at the center of the action would seem to be loving and well-adjusted. They both seem to be truly accepting of their 17-year old son's (Spencer Morrissey) professed homosexuality and supportive of each other. Architect Martin (Paul Witten) appears distracted as he prepares to be interviewed by best friend Ross (Matt Kirkwood) about his latest award and multi-million dollar project. Stevie (Ann Noble) tries to get to the root of Martin's current fog but doesn't get a definitive answer before Ross arrives to conduct the interview. The interview does not go well and Ross calls it quits. He jokingly accuses Martin of having an affair and is stunned when the straight-laced Martin confesses that it's true. But Ross is really outraged when he learns the object of Martin's affection is four-footed. Ross writes Stevie a letter revealing the sordid details and she confronts Martin. Virginia Woolf's battling Martha and George would be stunned by the intensity of Stevie's anger. She nearly totally demolishes Robert Selander's beautifully appointed set.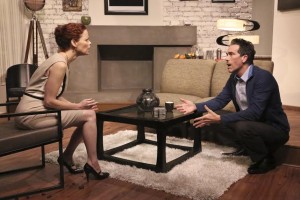 Noble gives a tour-de-force performance—hell hath no fury like a woman scorned for livestock. Her final act is shocking in its brutality but Noble's acting makes it seem the only logical ending. Witten gives a softly muted performance in contrast to Noble's raging fury. You can truly believe he is head over heels in love because of the look he saw in Sylvia's eyes. Director Ken Sawyer ratchets up the tension in this intermission-less outing. His leading players succinctly deliver Albee's precise prose with conviction and the result is one of the year's best pieces of theatre. Miss The Goat at your own peril.
Davidson/Valentini Theatre, 1125 N. McCadden Place in Hollywood. Ends Nov. 23. 323-860-7300 or www.lalgbtcenter.org/theatre