In 1985, writer/composer Rupert Holmes did a marvelous piece of literary and theatrical legerdemain. He completed the final, unfinished novel of Charles Dickens, The Mystery of Edwin Drood. He turned it into a musical set in a British music hall with the actors playing music hall performers enacting roles in the Dickens mystery. Holmes let the audience in on the fun by getting them to vote on key plot points that Dickens had left undecided, most especially the murderer. The resultant show won five Tony Awards in the process, including Best Musical and Best Score. It has been one of my favorite musicals since I saw the original Broadway cast in 1986. Actors Co-op is presenting the revised version that returned to Broadway in 2012, which featured a few new songs as well as some restored to the score after earlier cuts by Holmes.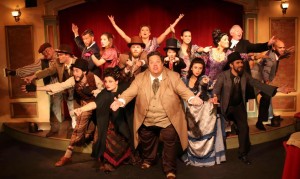 (photos by Lindsay Schnebly)
The show is still a lot of fun but director Stephen Van Dorn has over-emphasized the slapstick elements, often to the detriment of the score. Playing the role of John Jasper, the opium-addicted lusting choir master of Cloisterham, he is the worst offender. His overwrought shenanigans, during the show's best ballad, "Moonfall" (given a lovely rendition by Eva Abramian), has the audience laughing at his antics rather than listening to the lyrics. Yet the usual comic relief team of Durdles (Greg Baldwin) and Deputy (E.K. Dagenfield) fail to land most of their laughs because of the mis-direction. Van Dorn has also elected to have five cabaret tables with ten audience members seated at them placed in the center of the Crossley Theatre's thrust stage. This gives the staging a very cramped feeling and the cast seems to be in your face constantly.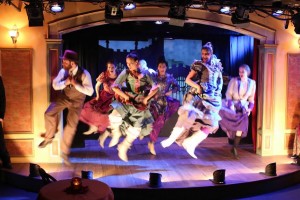 The cast is competent and have strong voices but there are no real standouts. The five-piece on-stage band under the direction of Jake Anthony does a lovely job of playing the score. Julie Hall's choreography and Vicki Conrad's costumes are added pluses. If you have never seen Drood, it's still a lovely experience but not the excellent show it was meant to be.
Actors Co-op, 1760 N. Gower St. in Hollywood. Ends Oct. 26. 323-462-8460 or www.actorso-op.org.