Everyone handles grief in their own way. Some cry for days, others refuse to cry. Some rant and rave against heaven or fate; others stoically accept the death of a loved one and move on with their lives. Joan Didion wrote about her grief in the 2005 National Book Award winner and Pulitzer Prize finalist The Year of Magical Thinking. In 2007 she adapted it as a one-woman Broadway show that starred Vanessa Redgrave in a Tony-nominated performance. Southern California audiences are lucky to have the amazing Linda Purl bring Didion's words to life currently at the Laguna Playhouse.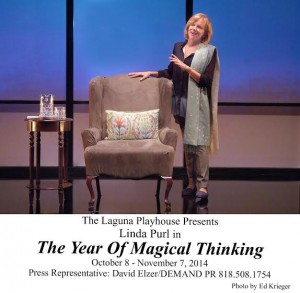 Didion's husband, writer and frequent collaborator John Gregory Dunne, died suddenly and unexpectedly during dinner in their New York apartment on December 30, 2003. They had returned from visiting their daughter Quintana in the hospital where she was in a coma resulting from pneumonia which turned into septic shock. Didion spent the following year dealing with her grief while caring for her daughter whose health issues kept compounding until her death in August, 2005. Didion chose the anthropological idea of magical thinking—that is if a person hopes for something enough or performs the right actions that an unavoidable event can be averted. Most people have probably performed some type of "magical thinking" in their lifetime–hoping a check won't bounce, hoping that someone special returns your call, hoping the police won't smell the alcohol on your breath.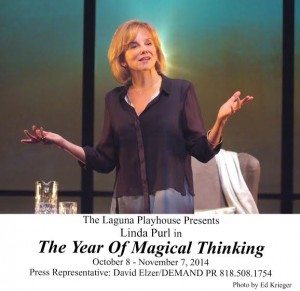 Didion brought all her skills as a reporter to bear in writing her memoir. There was no rending of garments, there were no uncontrolled emotional outbursts in her grief or in her retelling. She dissected the events over and over, looking at them from different angles, different perspectives. Her approach may seem detached but it still packs a demonstrative wallop. Her prose is glorious to the ears and Purl makes every word count. It's a masterful performance, 140 minutes alone on stage with never an uninteresting moment. Purl is an exquisite actress, especially on stage, and especially with a great script. Director Jenny Sullivan moves Purl around the bare playing space, providing quiet moments as well as fierce combative ones. Director and actress mesh perfectly to bring Didion's words to exuberant life. The subject matter might be grief but the execution is a paean to living life to the fullest. It creates a magical experience in the theatre.
Laguna Playhouse, 606 Laguna Canyon Rd. in Laguna Beach. Ends Nov. 2. 949-497-2787 or www.lagunaplayhouse.com.