Playwright David Ives' 2011 Tony nominated play, Venus in Fur, is being given its Los Angeles area premiere with an arresting production on the Julianne Argyros Stage at Costa Mesa's South Coast Repertory. Ives' two-hander is an amazingly literate if often wordy dissertation on sexual desires and role playing, mainly domination and submission.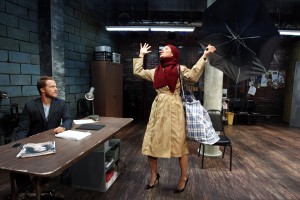 (all photos by Debora Robinson)
Thomas Novachek is a playwright who is turning first time director to bring his latest work to the stage– an adaptation of Leopold von Sacher-Masoch's 1870 erotic novella Venus in Furs. He has just witnessed the audition of 35 actresses who had no clue how to play his heroine. As he is about to leave the rehearsal studio, in a flash of lighting and a crack of thunder Vanda Jordan arrives. She is wet and bedraggled, loud, crude and very late for her audition which Thomas can't find on the list. She begs Thomas to read the play with her but he refuses until he is intrigued by her large bag of period costumes and appropriate props. He takes on the role of Severin, a man haunted by the childhood memory of his Countess aunt who whipped him with a birch rod while he was held by servants face down in her fur coat. He has longed to find a woman to dominate him ever since. He may have finally found her in the person of the young widowed Wanda von Dunayev, a fellow guest at the spa in the Carpathians where he is vacationing. He offers to be her slave and she draws up a contract binding him to her. Sacher-Masoch inspired the term masochism and there is plenty of humiliation and pain in the novella's evolving relationship as well as between the play's writer/director and actress.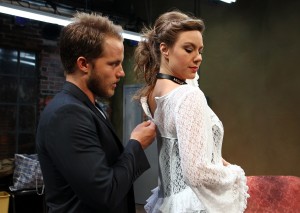 As Vanda and Thomas read through the play, their roles start to reverse. He begins giving her direction but ends up taking it from the ever more forceful and domineering actress. It's a fascinating merry go round of emotional soul-baring as the two become lost in the characters they are playing. The acting duo is dynamite. Graham Hamilton seems like a solid professional, a writer/director in charge but as he slowly succumbs to the machinations of Vanda he becomes meek, cowed and humbled by the force of her personality. Jaimi Paige delivers an amazing performance—she instantly transforms from the gutter mouthed actress to the classy Victorian time after time, sometimes within the same sentence. She astounds Thomas and the audience with her stage presence and command. She is sexy, seductive, trashy, manipulative and engrossing.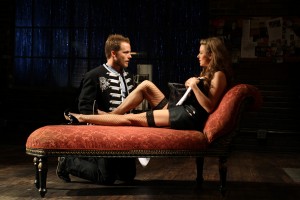 Director Casey Stangl never let the pace slacken in the 100 minute intermission-less play. Ives' script is heavy on literary references—the Bacchae, the Apocrypha Bible, the goddess Aphrodite—as well as the tropes of S&M and theatrical in jokes but the audience is never given a chance to lose focus. The constant and instantaneous switching from modern day characters to the novella's characters is seamlessly accomplished. Keith Mitchell designed the spacious rehearsal studio and the rain pelting the wall of windows throughout gives a tremendous boost to the atmosphere. Elizabeth Harper's lighting design is another great asset.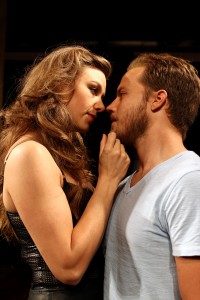 South Coast Repertory, 655 Town Center Dr. in Costa Mesa. Ends Oct. 26. 714-708-5555 or www.scr.org.