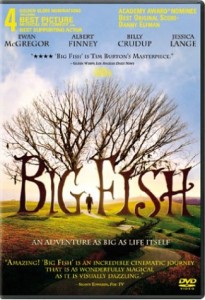 In December 2003, the Tim Burton directed film Big Fish opened to less than enthusiastic reviews and box office. It probably wasn't weird enough for die-hard Burton fans even though among the cast of characters was a witch, a giant, a mermaid, and a werewolf. Were they real or just the tall tales spun by the protagonist played by Ewan McGregor/Albert Finney? John August's script, based on a novel by Daniel Wallace, grew on me more and more as I watched the film unfold.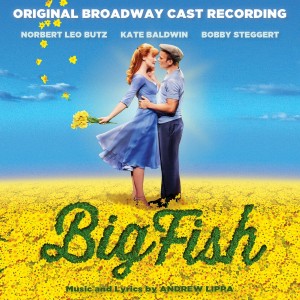 Ten years later August wrote the book for the Broadway musical version of the story. It fared even worse, running for just 34 previews and 98 performances and being shut out of the Tony Awards despite the contributions of choreographer/director Susan Stroman and star Norbert Leo Butz. Luckily Musical Theatre West producer Paul Garman saw the show, loved it, purchased the sets and costumes and is now presenting the West Coast Premiere to Southern California audiences at the Carpenter Center in Long Beach. Thank you very much, Mr. Garman.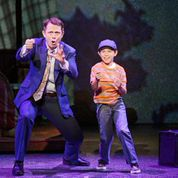 Jeff Skowron and Jude Mason (all photos by Caught In the Moment Photography)
Big Fish may not be a great show but it is worth seeing for its truly heartfelt story of a father and son trying to communicate with each other. A tale of a boy's skepticism of his father's bravado, of a father's longing to connect with a son whose growing up he mostly missed due to his job as a traveling salesman. A tale of a man's joy for life and adventure and his impassioned affection for the woman he loved from the moment he first saw her and "Time Stops." That is one of the very memorable songs in Andrew Lippa's score, the show's best asset. The music is very melodic and the lyrics add extra depth and layers to the storytelling. Musical director Matthew Smedal and his orchestra really did a great job from the pit which was covered in a set piece representing an Alabama river often inhabited not only by a big fish but by a mermaid (Marisa Field) who was under a curse that could only be lifted by a kiss.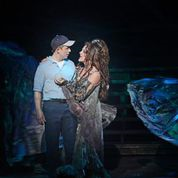 Jeff Skowron and Molly Garner
That is one of the tall tales told by Edward Bloom (Jeff Skowron) to his young son Will (Jude Mason). There is also his meeting with a local witch (Molly Garner) who shows him how he will die and with an agoraphobic giant (Timothy Hughes). Edward and Karl the Giant go on the road and join the Calloway Circus run by Amos (Gabriel Kalomas), a real howler. Edward finally meets his love, Sandra (Rebecca Johnson), and declares his love in a field of "Daffodils," one of the most romantic Act One closers ever.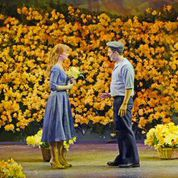 Rebecca Johnson and Jeff Skowron
The adult Will (Andrew Huber), soon to be a husband and father, tries to decipher his father's stories. He counts 36 in all although some are variations of others and some are just jokes. Will has a deadline since his father has inoperable lung cancer. It's Will's discovery of the embellished truth which is the real catch in the throat moment here. He realizes his father didn't create the stories to make himself seem like a Big Fish, but rather to inspire his son. Huber and Skowron really make the best of their reconciliation.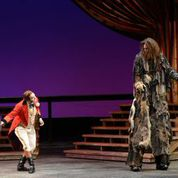 Gabriel Kalomas and Timothy Hughes
Skowron does a solid job but he just lacks the charisma and chutzpah the character needs to really stand out from the crowd. He is very good in the quieter, more emotional scenes and he does have the energy to push across the show's anthems "Be the Hero" and "Fight the Dragons." Huber is really wonderful as the doubting, questioning son and his "Stranger" is a show stopper. Johnson creates a lovable and loving wife and mother. Her "In My Life" and most especially "I Don't Need a Roof" are truly touching moments. The large supporting cast does fine.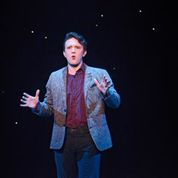 Andrew Huber
Larry Carpenter's direction could be tighter; it's a very long show. Peggy Hickey's choreography is repetitious at times but the big Act Two tap number "Red, White and True" delivers the goods. William Ivey Long's costumes are colorful and truly amazing at times. The trees/rocks in the witch's scene turned out to be chorus girls in twirling capes with high collars. There are also some dancing elephants in the circus. The original Broadway sets are un-credited but they are really enhanced with John Infante's projection design. Phil Monat's lighting is also very effective.
Carpenter Performing Arts Center, 6200 E. Atherton St. in Long Beach. Ends Nov. 16. 562-856-1999 ext. 4 or www.musical.org.