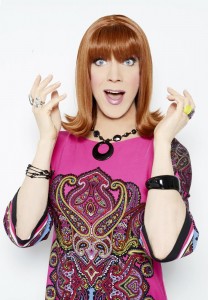 Photo by Peter Palladino
I first saw Miss Coco Peru in 1997 at a little cabaret room I believe was on Third Street in Los Angeles. It was the one and only time I was ever there. I precisely remember the evening because I have since linked the Scarlet Pimpernel to the red-haired diva. Huh, you ask? My friend Doug Sills was in the audience that night and when I asked him "What's new?" he told me he had just been cast in the leading role in the new Broadway musical The Scarlet Pimpernel. Funny how the mind works, right?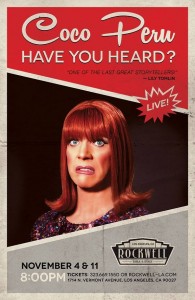 Miss Coco then went on to deliver two of the funniest performances I have ever seen in "indie cinema"—as herself in both 1999's Trick and in 2002's Girls Will Be Girls. Seventeen years have passed since I saw Miss Coco live and in person but she is back at Rockwell with a new show Have You Heard? She tells some of her favorite stories and sings some of her favorite songs during 90 fun-filled minutes. Miss Coco says she loves to reminisce; actually if she adopted a little black baby she would name it Reminisce. That's dedication to a word! Miss Coco has a lot to reminisce about her 24 years as a drag performer, that's 967 in drag years for those of you counting. She jokingly says that she realized she was getting older when one of her earliest stories is now considered a "period piece." Her mother is a font of downhome common sense including this magnificent observation: "Time is a great healer but a lousy beautician."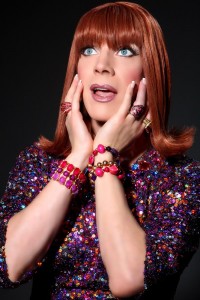 Photo by Steven C. De La Cruz
Miss Coco is a very talented monologist, a rare profession these days. Some of her stories may seem a bit over the top but there are chewy golden kernels of life wisdom at the center of each of them. And she has some wonderful stories to tell.
–Her mother taking Coco's mind off the death of an audience member by relating her own tragic day, purchasing a tomato for 89 cents.
–Her ambition to be a Drag Queen Jesus.
–Spending a weekend in Atlantic City with Liza Minnelli and then receiving a therapy session from Liza with a Z in a helicopter flying back to the city.
–Performing at a "Girlfriend's Weekend" consisting of Red Hat Ladies who turned out to like dirty jokes.
–Shimmying as a cure for what ails World Leaders.
Miss Coco also possesses a strong singing voice and gives heartfelt renditions of "Feeling Good" and "The Girl Who Used to be Me" as well as a nicely raunchy take on the James Bond classic "Nobody Does It Better." That last song could serve as Miss Coco's motto because nobody does tell such funny yet truthful and enlightening tales of survival. Long may Miss Coco reminisce!
Rockwell Table and Stage, 1714 N. Vermont Ave. in Hollywood. Nov. 11. 323-669-1550 ext. 20 or www.rockwell-la.com.