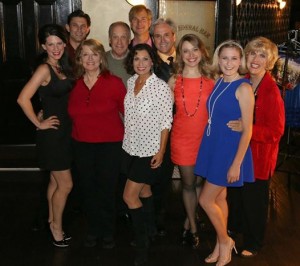 The Cast
Attending an evening of Jerry Herman's show tunes seemed a perfect way to end The Day of the Dead. So that is why I was in the audience for Kritzerland's November 2 show at Sterling's Upstairs at The Federal rather than at the Ovation Awards. When I did attend the Ovations over a decade ago, the producers never seemed to be able to put on an entertaining show. With all the musical talent in the area and all the major producers involved, I never understood that. Since no performers were announced for this year's event, I guess they finally gave up. Yet Bruce Kimmel was able to get a top of the line roster of singers to salute Mr. Herman. There is probably no living Broadway composer who writes more melodic and optimistic tunes. He has had several big hit shows in his career but even his flops had great scores.
HELLO DOLLY
Special Guest Karen Morrow related some funny stories of touring for many years to colleges and conducting Master Classes with the composer. Then she sang "Love, Look in My Window" which was written for Ethel Merman to perform in the show that was originally written for her. But Merman declined and the show opened in 1964 and gave Carol Channing a job for life but Channing did not sing that song. The show ran for 2,844 performances, the longest running musical at the time it closed in 1970. Merman finally sang the song when she was the last Dolly on Broadway, following Ginger Rogers, Pearl Bailey, Phyllis Diller, Betty Grable, Martha Raye among others. Ms. Morrow introduced the song into the show when she played Dolly in Redondo Beach in 1994. She is a deft comedienne but she is also a master of song phrasing. Damon Kirsche delivered a wonderful put-together of the tuneful "Put on Your Sunday Clothes" and the wistful "It Only Takes a Moment." Kirsche earlier crooned his way through "To Be Alone With You," a ballad Mr. Herman wrote (without taking credit) for Ben Franklin in Paris. As my Plus One remarked to me, Kirsche's voice was "like buttah."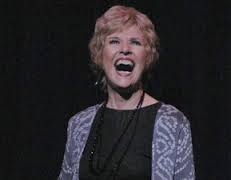 Karen Morrow
MAME
This show opened in 1966 and ran for 1,508 performances making Angela Lansbury a Broadway star and winning her the first of her five Tony Awards. Kimmel showed that Herman was an early proponent of recycling when Valerie Perri sang "Show Tune" from Herman's off-Broadway revue Parade and without missing a beat segued into "It's Today" from Mame with the same melody. Shannon Warne belted out "If He Walked into My Life" while Damon Kirsche and David Engel delightedly proved men can also be bitchy "Bosom Buddies."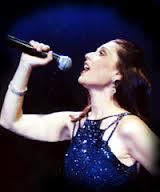 Valerie Perri
DEAR WORLD
The first in a series of disappointments for the composer came with this show's 132 performance run in 1969, although it did win Ms. Lansbury her second Tony. The score has a haunting ethereal touch to its cheery optimism. Chelsea Emma Franko did a lovely job on the soft, plaintive "I've Never Said I Love You" while Shannon Warne brought down the house with her powerful belting of "I Don't Want to Know."
MACK & MABEL
I have always felt this was Herman's best score but, even with Robert Preston and Bernadette Peters as the titular silent film legends, ticket buyers disagreed and the show only ran 66 performances in 1974. The material may have been too dark for Herman's fans who expected frothy musicals from him. It seems Mr. Kimmel might agree with me since he chose five songs from the show for his cast to sing. David Engel started off the evening with the fast paced "Movies Were Movies" and then effortlessly went into the heartbreaking ballad "I Won't Send Roses." Chelsea Emma Franko flawlessly essayed the bitterness in every word of "Wherever He Ain't." Fourteen year old Sami Staitman joyously delivered "Look What Happened to Mabel" while Valerie Perri provided an impeccable rendition of the classic torch song "Time Heals Everything."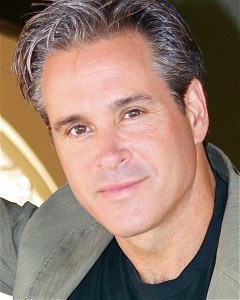 David Engel
LA CAGE AUX FOLLES
The last Broadway show from the composer appeared in 1987 and ran for 1,761 performances, winning six Tony Awards including Best Musical. Stephen Sondheim lost the Tony that year but his Sunday in the Park with George was awarded the Pulitzer Prize. La Cage has already had two Broadway productions this century and won the Tony Award for Best Revival both times. Shannon Warne sang a rousing "The Best of Times," even leading the knowledgeable audience in a merry sing-a-long. David Engel was the original Cagelle Hannah from Hamburg in 1983 and since then has played the leading role of Zaza in several productions. His slow building but impassioned "I Am What I Am" was a fitting close for a perfect evening.