The National Tour of Noel Coward's Blithe Spirit is being billed as "an improbable farce." It doesn't qualify as a farce because the requisite number of doors is missing. It takes five doors to make a farce an esteemed fellow reviewer told me decades ago and I have always counted the doors ever since. However Mr. Coward wrote a very funny drawing room comedy about life and the afterlife, wives and former wives, longing and regret and new beginnings.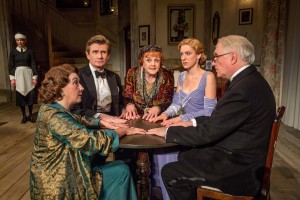 The cast of Blithe Spirit (photo by Joan Marcus)
Charles Condomine (Charles Edwards) is a writer working on a new book about a phony medium. He has invited the village medium to conduct a séance after dinner in order to glean some tricks of her trade. Ruth (Charlotte Parry), his wife of five years, is in on the ruse as are the other dinner guests Dr. Bradman (Simon Jones) and his wife (Sandra Shipley). Madame Arcati (living legend and national treasure Angela Lansbury) gives them more than they expect when she conjures up the mischievous ghost of Charles' first wife, Elvira (Jemima Rooper). The usual comic shenanigans ensue as Charles is the only one who can see and hear the ghostly presence. Everyone thinks he's just gone mad and Elvira loves messing with everyone's expectations. Also on the scene is one of Coward's best devices, the newly hired and untrained maid Edith (a real comic gem as played by Susan Louise O'Connor).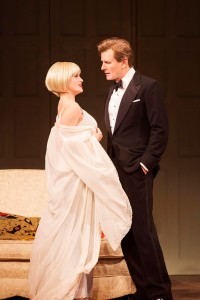 Jemima Rooper and Charless Edwards (photo by Johan Persson)
Michael Blakemore's direction is a bit too leisurely and makes for a long evening. The cast is fine and Blakemore has given them some inventive physical comedy to enact, something O'Connor excels at. Lansbury absolutely steals every second she is on stage. Her Madame Arcati is a masterpiece of timing and inflection. Her musical comedy background comes into play as she dances her way around the room, getting herself in the mood to go into one of her trances.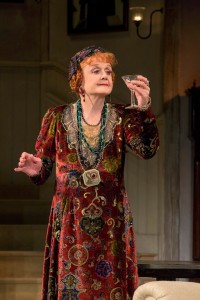 Angela Lansbury (photo by Joan Marcus)
The show is scheduled to tour to other theatres and Simon Higlett's set, though lovely and imposing, is too small for the Ahmanson stage, blocking sightlines on either side of the auditorium. If you are not sitting dead center, you will miss a lot of action happening either stage right or stage left. The set also figures into the preposterous ending which is more Phantom of the Opera than Blithe Spirit. Not only does the chandelier crash to the floor, but the whole ceiling and most of the furnishings crash about also.
Ahmanson Theatre, 135 N. Grand Ave. in Los Angeles. Ends January 18. 213-628-2772 or www.centertheatregroup.org