Sir Noel Coward was a playwright, actor, director, composer, lyricist and legend. Barry Day devised an entertainment, Love, Noel, consisting of two actors reading letters Coward wrote or received along with many of the songs Coward wrote. The letters were written to or received from people in show business, politics, academia. as well as from royalty and everyday fans. It's an entertaining evening if a bit too long and a bit too slow at times.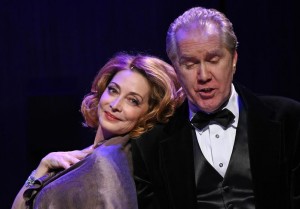 photos by Kevin Parry
Gerald Sternbach is the musical director/pianist for the show and he provides splendid accompaniment to the two dozen songs. Jeanie Hackett directs with an easy, classy style and keeps the evening moving along at a leisurely pace. The actors often read their material from music stands but this just adds to the informal feeling of a salon gathering rather than a proper theatre presentation. Harry Groener strikes a dashing figure as Noel, stately as a sturdy English castle. He has charm to spare but at times you wish he were a bit looser, a bit more fun. Sir Noel's droll sense of humor often comes off as too dry and dusty.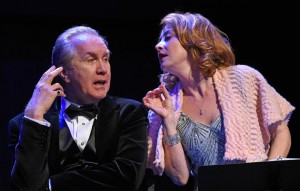 Sharon Lawrence is incandescent as all the female correspondents, from his mother to his famous show biz acquaintances. With just an added scarf, string of pearls, shirt or fur wrap (great work by costume consultant Alex Jaeger) she transforms herself–adding an accent as Marlene Dietrich or Greta Garbo, or a specific cadence to her speech as Elaine Stritch or Gertrude Lawrence–into many and various characters. Her singing is splendid, whether doing ballads such as "Mad About the Boy" and "I'll See You Again" or comedy numbers like "Why Do the Wrong People Travel." The highlight of the evening was the duo teaming up for the tango influenced "Nina." In the immortal words of Cole Porter, "it was a swell party."
Wallis Annenberg Center for the Performing Arts, 9390 N. Santa Monica Blvd. in Beverly Hills. Ends December 28. 310-746-4000 or www.thewallis.org