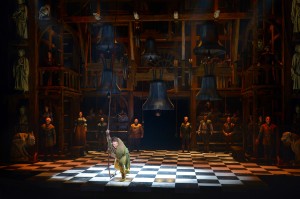 Michael Arden as Quasimodo (all photos by Kevin Berne)
These days nearly every movie ever made is being turned into a stage musical. It's an absolute epidemic and most of them don't make a healthy transition from film to stage. It helps if you have the original creators on board as the La Jolla Playhouse did with their recent The Hunchback of Notre Dame. Based on the 1996 Disney animated film it contained a score by composer Alan Menken and lyricist Stephen Schwartz. Peter Parnell joined them as the book writer, going back to the original novel by Victor Hugo for much of his story and losing the cartoonish elements of the Disney film. This was the American debut of the stage musical; it had a long running version in Germany over a decade ago.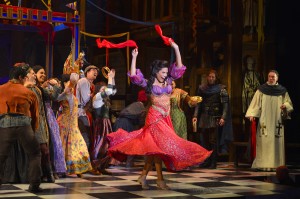 Ciara Renee as Esmeralda
Parnell has strengthened the plot by returning the villain Dom Claude Frollo (Patrick Page who overplays his hand most of the time) to the church and giving him a wastrel brother whose offspring turns out to be the title character. When Frollo's brother dies he leaves his half-Gypsy deformed infant in the care of his religious brother who treats the child as an outcast, hiding him away in the bell towers of Notre Dame Cathedral. The grown Quasimodo (an endearing ad affecting Michael Arden) is curious about life on the streets below his belfry but obeys his guardian until one fateful Feast of Fools when he breaks loose "Out There," and becomes infatuated with the Gypsy dancer Esmeralda (a smoking hot Ciara Renee). Esmeralda also becomes the lustful target of Frollo and his new Captain of the Guard Phoebus (a wan Andrew Samonsky). Frollo's hatred of the gypsies and his lust for Esmeralda fuels the plot to an exciting and tragic climax.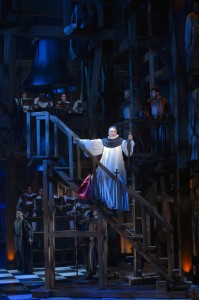 Patrick Page as Dom Claude Frollo
The technical elements are superb—Alexander Dodge's scenic design with all those bells, Alejo Vietti's colorful costumes, Howell Binkley's painterly lighting and Gareth Owen's crystal clear sound design. Director Scott Schwartz keeps the action moving cleaning and swiftly. Parnell's book has done away with the comic gargoyles from the film but here the chorus still acts as the voices of the statues giving advice to Quasimodo but with less humor. The best new element of the show is the addition of an on stage 30 plus member Choral Ensemble, Sacra/Profana. The new songs don't register as much as the ones from the film. But given the choral work this show, even though not sung through like Les Miserables, feels more like an opera than a Broadway musical. And that is a most glorious thing.