David Sedaris is a humorist, comedian and author whose The Santaland Diaries essay was first broadcast on NPR in 1992. It has since been adapted by actor/director Joe Mantello and is staged annually as an alternative to the thousands of A Christmas Carols or Nutcrackers that usually dominate theatres for the holiday season. This writer thinks Sedaris has a keen sense of observation about his fellow humans and their foibles, but I have never found his material laugh out loud funny. Giggle tee hee hee, maybe.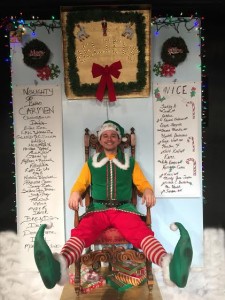 Matt Crabtree as Crumpet the Elf (photo by D&ME Productions)
Director Deidra Edwards has staged the 75-minute monologue efficiently in the small confines of The Working Stage Theater. David Mauer has contributed a fun scenic design representing Santa's environs at New York's famous Macy's department store. Actor Matt Crabtree is charming and endearing as the cash strapped actor forced to don the gay apparel of an elf to earn some money. He recounts the various characters—Santas, other elves, obnoxious children and their even more obnoxious parents—easily essaying their various colors.
The Working Stage Theatre, 1516 N. Gardner St. in Los Angeles. Ends December 21. 800-838-3006 or www.santaland2014.brownpapertickets.com